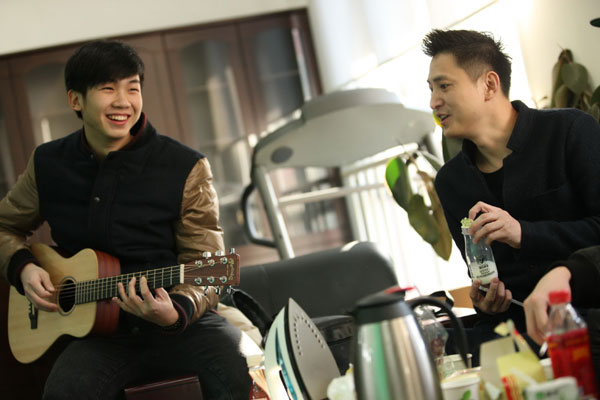 Director Fan Lixin (right) talks with Bai Jugang, a young star featured in his documentary film.
They are called the "super boys" and "super girls", as descriptions of achievers among China's post-1990 generation. However, a section is often tagged with stereotypes of vanity, shallowness and selfishness.
The criticism largely hasn't deterred the rise of some skilled youngsters to stardom, as evident from the multiple talent and reality TV shows across the country.
Behind their masks of confidence, however, lie faces that also seem confused, sad and sometimes angry.
In Wo Jiu Shi Wo (I Am Myself), a documentary film based on recordings of backstage scenes from the 2013 Super Boys competition, young contestants are seen struggling for around 100 days leading up to the finale with issues such as crumbling families, unstable friendships and the constant pressure to "become a celebrity".
The official English title of the documentary is No Zuo No Die, a catchy Chinglish phrase recently listed in the American online Urban Dictionary. It literally means "dying while asking for trouble". As last year's most popular cyber idiom in China, it was perhaps originally intended to be a sarcastic projection of the post-1990 generation but ended up showing off its die-hard spirit.
The film attempts to justify Chinese TV's young stars and celebrates a decade of televised talent shows in the country.
In 2004, Hunan TV took the initiative by producing Super Girls, China's first American Idol-style talent show, and followed that with Super Boys in 2007. For the first time, the Super series allowed Chinese audiences to vote for their favorite contestants.
Young idols such as Li Yuchun, described as an "Asian hero" by Time magazine, were born.