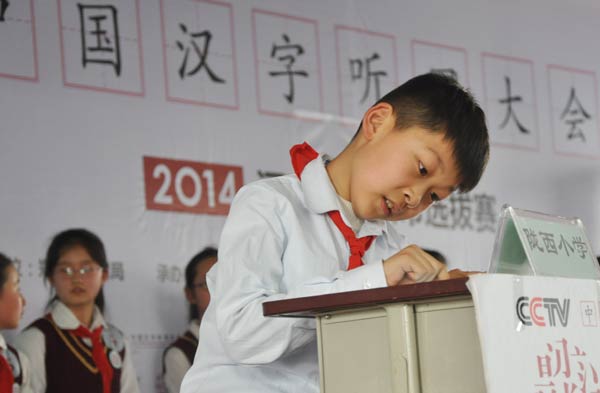 A primary school student writes Chinese characters at an audition for Dictation Assembly of Chinese Characters in Zhengzhou, Henan province, in April. Zhang Tao / for China Daily
The popularity of TV programs that highlight the enduring appeal of Chinese characters will rekindle interest in traditional culture, specialists and media experts believe.
"Traditional Chinese culture and Chinese values are gaining currency because of these programs," said Li Bo, professor of Chinese literature at Nanjing Normal University.
Li's comments were made at a Beijing seminar that examined the success of Chinese Idiom Congress, a weekly TV quiz program on China Central Television.
The event tests proficiency in Chinese idioms - four-character phrases that express sophisticated ideas.
The program, which featured Chinese characters and culture, was broadcast on CCTV each week from April 18 to July 6 and was watched by 348 million people.
Su Qian, 26, a bank clerk in Changchun, Jilin province, is an avid fan of the program. "I watched it originally because one of my friends took part in it," she said.
"But as I watched more, I was attracted by the idioms themselves. There are so many of them in the Chinese language, expressing sophisticated meanings succinctly. I'm fascinated by the subtlety of Chinese culture, which I had never realized before," she added.
A number of similar programs have hit the airwaves, including CCTV's Dictation Assembly of Chinese Characters and Chinese Riddle Congress as well as Henan TV's Chinese Spelling Hero.
These programs have a special attraction for younger people.
Wang Xi, a doctorate student majoring in history at Beijing Normal University, is a loyal follower of the Dictation Assembly of Chinese Characters.
"I paid more attention to writing Chinese characters after watching the program," she said.
"Previously, with a Chinese character that I knew how to pronounce, I took it for granted that I knew how to write it. But it often turned out that I did not know how to read it or write it correctly.
"Now when I come across a Chinese character that I am unfamiliar with or that I'm unsure how to write, I look it up in the dictionary, write it down and memorize it."
Zhang Tengyue, anchorman for Chinese Idiom Congress, said hosting the program had been a good chance for him to review the idioms.
"Like many in our audiences, I learned these Chinese idioms when I was a student, but had forgotten how to use them. The program gave me an opportunity to become familiar with the idioms again," he said.
Guan Zhengwen, director of the idiom program, said it has made Chinese idioms a national phenomenon, with an increasing number of people showing an interest in learning about them.
"More people have become interested in idioms after watching the program, as evidenced by an increasing number of publications about Chinese idioms, and the fact that schools, organizations and institutes are holding their own Chinese Idiom Congress," Guan said.
Li added, "There were no more than 50 academic papers on Chinese idioms before the program, but now the number is growing quickly."