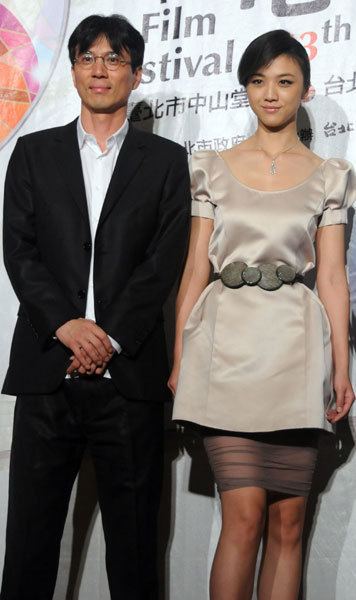 Tang Wei and Kim Tae-yong at a promotional event for their movie Late Autumn in Taipei in 2011.[Photo/Xinhua]
When Chinese actress Tang Wei wed South Korean director Kim Tae-yong, they joined a growing number of international couples from the two countries walking down the aisle. Xu Lin reports.
Many Chinese netizens declared themselves he
art
broken to learn of popular actress Tang Wei and South Korean director Kim Tae-yong's sudden engagement recently. But the shock of the announcement was soon overshadowed by the news that the two held an impromptu wedding in Sweden.
Tang's agency confirmed that the couple wed at the house of late Swedish filmmaker Ingmar Bergman on remote Faro Island on July 12.
According to the agency, as diehard Bergman fans, the two decided on the spur of the moment to have a private wedding in accordance with the local customs, to commemorate their pilgrimage to the auteur's home. The wedding was a special memento that they gave to themselves as cinema professionals. The official wedding ceremony will be held this autumn, with family members present.
"I believe every woman wouldn't miss an opportunity that can change her destiny. If you grasp it, it may change your life," Tang told news portal NetEase when asked about her marriage. The Chinese movie star is now learning Korean.
Tang and Kim, 45, met in 2010, when Tang starred in Kim's English-language movie Late Autumn. The movie is about Tang, a prisoner released on 72-hours parole, who meets a South Korean man on-the-run played by Hyun Bin, during her visit to her family in Seattle.
The 35-year-old star is not the only Chinese celebrity to marry a well-known South Korean in the entertainment industry.
Taiwan pop singer Valen Hsu, 39, became engaged last year to Choi Jae-sung, who is in senior management at South Korea's top music agency, SM Entertainment. They are planning an intimate wedding in Seoul in September.