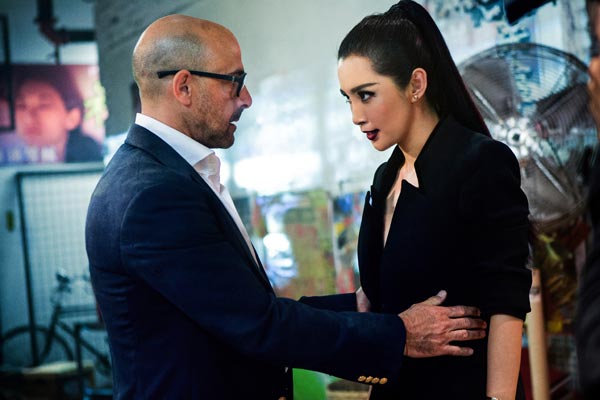 Li Bingbing on the set of Transformers: Age of Extinction, the movie she hopes will propel her to fame and fortune in Hollywood. Photo provided to China Daily
Spain has Penélope Cruz, France has Marion Cotillard, and Italy has
Monica Bellucci
. But a breakout actress from China has yet to make a mark on modern-day Hollywood. That could change with
Li Bingbing
, whose profile is set to rise with her role in Michael Bay's
Transformers: Age of Extinction
.
A celebrity in her native country — "the Angelina Jolie of China," as Li's publicist put it — she has starred in more than 20 movies at home, many of them martial arts films. She crossed into US film in recent years, notably with Paul W.S. Anderson's 2012 sci-fi flick Resident Evil: Retribution, starring alongside Milla Jovovich.
This edition of the "Transformers" franchise specifically appealed to Li, who's based in Beijing, because it features a story line with several Chinese elements. Li plays the role of Su Yueming, the owner of a Chinese factory that makes Transformers, and some scenes were shot on location at the Great Wall and in Hong Kong — which, in the movie, giant aliens are out to destroy. "The global audience will see something about China," she said. "And Transformers will connect with the Chinese audience."
Li considers several US actors among her favorites, most notably Matthew McConaughey, Julia Roberts and Meryl Streep. And, as with most actresses primed to break into Hollywood, fashion plays an important role in her career. She is a face for Gucci in China, and she partnered with Gucci Timepieces & Jewelry to present a special edition of its Bamboo collection.
In addition to Gucci, Li says, her favorite designers include Sarah Burton for Alexander McQueen, Alexander Wang and the Beirut-based Georges Chakra, whose designs she has worn on the red carpet several times. In her downtime, Li says, she opts for looks that are more casually chic than dressy.
"Comfortable" is how she described her personal style, though that doesn't extend to her feet: "I love high-heeled shoes. In the world, beauty sometimes comes from torture — the more torture, the more beautiful. I also love simple things, and my favorite is black and white."
At the Transformers premiere in New York, the actress wore a Giambattista Valli haute couture gown that consisted of a yellow bra top, a blush peplum and a black skirt. The event came with a bit of anxiety for Li because she arrived in New York just hours before the red carpet opened. To save time, she had her hair and makeup done in first class before landing.
"I have to thank Air China because they understood me and had patience and gave me support," she said. "I also need to thank all the travelers who sat beside me and didn't complain to the cabin crew."
Spending time with Li, there is no mistaking her strong personality, so it comes as no surprise she prefers to play characters that share those attributes — Yueming in Transformers being one example. "She is so smart," Li said.
"She is a CEO. She is capable and a cutting-edge scientist, educated, sexy, beautiful and in shape. Stanley [Tucci] plays my boss, but I treat him like I am the boss."