Tang Wei on love and engagement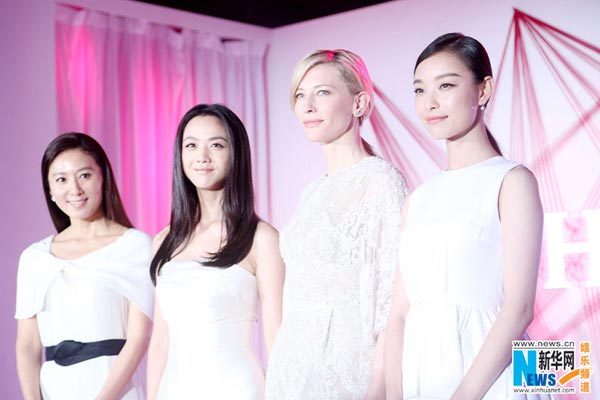 Cate Blanchett, Ni Ni and Tang Wei appear at a commercial event in Shanghai, on July 22, 2014. [Photo/Xinhua Ent]
Chinese actress Tang Wei said that she would never turn her back on fate when it knocked on her door.
Tang, along with Chinese actress Ni Ni and Australian actress Cate Blanchett attended a promotional event for a new line of luxury skincare products in Shanghai yesterday. It was Tang's first public appearance since she announced her engagement to South Korean director Kim Tae-yong on July 2.
In 2011, Tang appeared as the female lead in the South Korean film "Late Autumn." She first met Kim when making the movie in 2009. According to a statement from her management company, they became friends and later fell in love. The wedding is scheduled for this autumn.
When asked about her engagement, Tang thanked the public for its support and said, "If a woman encounters a chance that could change her destiny, why would she let go?"
Tang also said she is trying very hard to learn Korean.