You aren't what you eat; especially if that includes insects!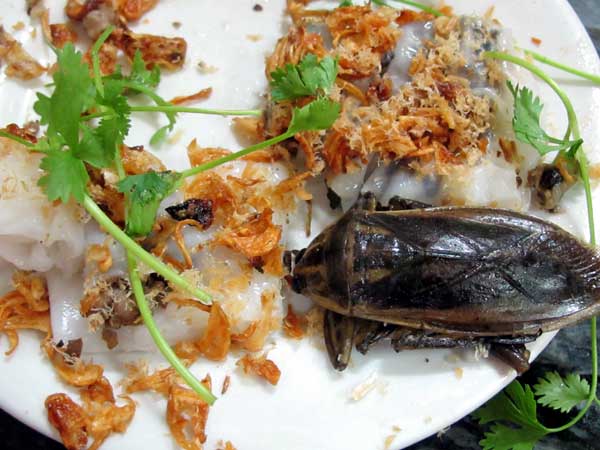 Do you dare to try a dish of bug? [Photo by Mike Peters/China Daily]
I ate the bug ... sort of.
He (she?) was a monster — long, sleek and gray-brown, as big as a man's thumb.
NOT a cockroach, I was assured, but a water bug that doubtless had been splashing happily in a pristine lake before it became the catch of the day.
I was in Hanoi, Vietnam, enjoying a street-food tour to learn both the city's layout and its locally famous foods. In Asia, of course, there can be a fine line between famous and infamous food. CNN Go once asked its correspondents in this hemisphere to share their "oddest" experiences with local foods. The headline was "The 10 Most Revolting Foods in the World," and ranked No 1 was the made-in-China century egg. The list also included the Philippines' balut (a fertilized duck or chicken embryo, boiled and eaten in the shell), but insects dominated the ratings.
"I'll tell you honestly that crickets taste better than spiders," a reporter in Cambodia wrote with epicurean earnestness.
I'll tell you honestly that crickets have nothing on my water bug. It had the face of a devil and the wingspan of a small bird. Our smiling Vietnamese guide pulled the bug out of a kitchen cooler as we snacked on delicate fried-egg rolls.
"Would anyone like to try it?" he asked. At our table were myself (US), my Chinese roommate, a honeymooning French couple and two Japanese photographers. No hands went up.