Homey and rich tastes of Georgia in beachside landscape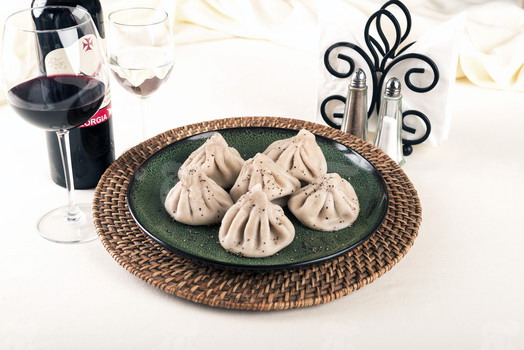 Dumplings are served at Suliko Restorani in Hollywood. [Photo provided to China Daily]
If you know Suliko Restorani, it's probably because of the word-of-mouth reviews that flow among Soviet-bloc immigrants living in South Florida.
Unmarked and unadvertised, Suliko opened in July 2013 at the back of Aquarius, a nondescript condominium in Hollywood, Florida, and quickly became the go-to spot for Russian speakers.
"Americans and Canadians, they didn't know this food before, but they are slowly starting to understand it," says the owner, Gocha Gelashvili, who runs the restaurant with his wife, Nina.
"It's healthy and fresh, and it tastes good."
By day and by training, Gelashvili, a native of Tbilisi, Georgia, is a sports therapist. But after living in the Miami area for 14 years and closing one Georgian restaurant in 2004, he decided it was time to make a second attempt at filling a culinary hole in the beachside landscape.
"In Florida, we don't have Georgian restaurants, but many Russians love Georgian food," he says. "If people like it, why not open a restaurant?"
On a recent weekend night at Suliko, an elegantly dressed party that included the Russian pop star Leonid Agutin and his wife, the singer Anzhelika Varum, seemed mismatched with their surroundings: laminated menus; walls adorned primarily with kantsi (ram horns made for guzzling alcohol) and outdoor furniture.
But no one seemed to care about the decor once plates laden with steaming, fragrant food arrived. Rich, carefully spiced and expressive, this was pure comfort food. The ajaruli khachapuri, a gondola-shaped flatbread overflowing with melted cheese and topped with a runny egg, could have been a meal on its own.
Kharcho, a soup made with boiled beef, walnuts, cherry tomatoes, rice and cilantro, was spicy and soulful. The shish kebabs were well seasoned and tender but were nearly outshone by the side dish of cubed potatoes with crispy exteriors and soft centers.
Although the wine list offers a few satisfying reds from Georgia, many bring their own potables, as two Russians did on another night I visited, downing a bottle of tequila before the black tea arrived.
The tequila was pure South Florida, but the tea signaled the end of a truly authentic Georgian meal.