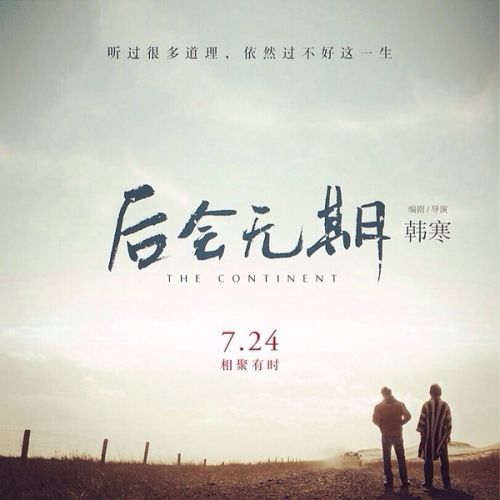 A poster of Han Han's new film "the Continent". [Photo/info.wuhan.net.cn]
With horror flick after road movie, China's domestic filmmaking seems to have found new inspiration for its box-office rivalry with Hollywood.
The Continent, which follows two young men's adventures as they travel across China, was crowned last week's box-office champion with 300 million yuan ($48 million) earned from last Thursday to Sunday.
In an industry obsessed with blockbusters, Chinese-language genre films have burst onto the stage.
"Low-budget arthouse, horror, road ... we've really made some breakthroughs in genre films," says Rao Shuguang, secretary-general of China Film Association.
Rao says behind this phenomenon is an increasingly younger group of Chinese cinemagoers with unprecedented tastes.
Given that ghosts are generally off-limits in anti-superstition Chinese ideology, horror films are rare in China. However, The House That Never Dies, based on a haunted mansion legend in Beijing, raked in some 330 million yuan in its first 10 days, second only to The Continent.
Earlier this year, Black Coal, Thin Ice, a low-budget sleuth noir, won the Golden Bear at the 2014 Berlin International Film Festival. Back home, it recouped four times its cost.
In an effort to protect domestic films, Chinese authorities usually fend off overseas competition by making theaters arrange more screenings for Chinese language films, especially in holidays.
A manager of cinema chain Wanda in East China's city of Nanjing told Xinhua that, as Transformers 4 went off, there will be no Hollywood movies at her theater until mid-August when How to Train Your Dragon 2 screens.
According to the Wanda website, only five foreign movies were released in July, including American Hustle, a 2014 Academy Award nominee.
Some movie critics complain that the success of The Continent and Tiny Times 3.0 - a chick flick released almost at the same time - is largely thanks to the buzz surrounding each of their virally popular directors.