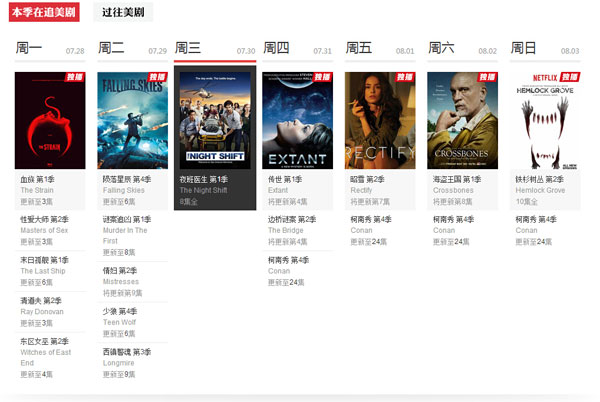 China's major video websites, such as Sohu and Youku Tudou, have attracted audiences by offering American TV shows. [Photo provided to China Daily]
China's top media authority is likely to impose quotas on the licensing of overseas programs by video websites, local media reports.
Since last October, the State Administration of Press, Publication, Radio, Film and Television is rumored to be discussing whether to follow the movie-import system by applying a quota system to TV shows, an anonymous industry insider told the Guangzhou-based Southern Metropolis Daily.
If applied, the policy could mean that video websites will be allowed to license only a limited number of overseas programs each year. This could have a huge impact on Chinese video websites, as overseas content continues to be one of their major attractions.
China's major video websites such as Sohu, Youku Tudou and Tencent are favorites of well-educated young audiences, especially for the diversity of their overseas content.
Sohu had exclusively licensed the popular US TV shows House of Cards, The Big Bang Theory, Saturday Night Live and The Ellen DeGeneres Show. More money will be reportedly spent on securing the rights to screen 100 US TV series from the coming fall season, 20 of which are expected to be exclusive to Sohu. The view count of US TV series represents one-fifth of the website's total and is expected to continue to grow.