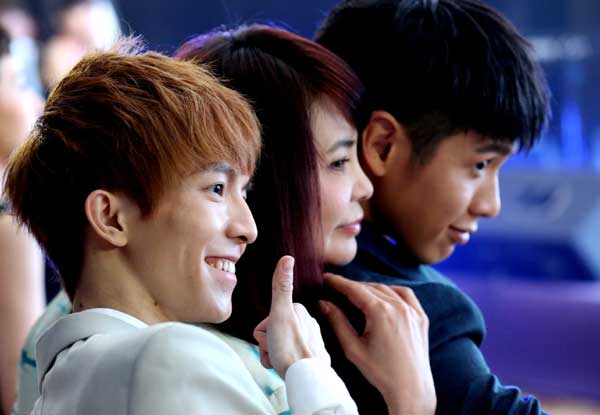 Author and director Guo Jingming (front) at the premiere of his new movie Tiny Times 3 in Beijing. [Photo/China Daily]
With the latest installment of the highly criticized but immensely popular film series about a group of wealthy Shanghai youngsters about to hit cinemas, director Guo Jingming says he only wants to do as best as he can. Wang Kaihao reports.
His book series may be called Tiny Times, but successful author and film director Guo Jingming has his sights set on big things as the third movie in his film series is released.
Tiny Times 3, adapted from his own novel, is released nationally today. It has been one year since the first two films in the series - released two months apart - divided the opinion of viewers and attracted blanket derision from critics.
"I don't expect it will be liked by everyone, but I will be satisfied if some people like it very much," the 31-year-old said at the premiere in Beijing.
He laid out his great expectations from the movie, and predicted ticket sales will surpass 500 million yuan ($80.5 million).
The series portrays the friendship and growing pains of four young women living in Shanghai. They start out as college students and later become young professionals. Critics have been harsh in condemning the portrayal of the protagonists' ostentatious lives.
Top film critic Raymond Zhou, who writes for China Daily, compared the film with Twilight but said the Hollywood vampire flick is more interesting, whereas Guo's film is shallow with bad taste.
On Douban.com, China's version of IMDb.com, the first installment of the film series scored a mere 4.8 points out of 10, and the second only 5.1.
However, the box office tells a different story. The two films, which were both released last year, gained a total 800 million yuan in box-office collections in 2013, ranking second only after Pacific Rim in the Chinese market that summer.