Out of the box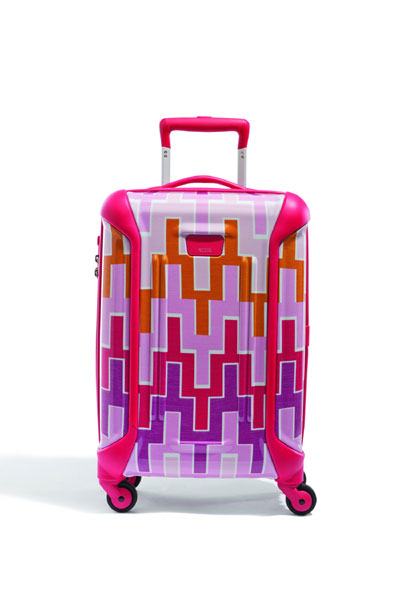 Vapor Polycarbonate Carry-on from the Jonathan Adler collection.
Tumi today is about more than luggage. Its Asia-Pacific managing director Tom Nelson talks to Rebecca Lo about how the brand has become a hot accessory for global citizens in Hong Kong.
On a sunny May afternoon high up on the 75th fl
oor of The Apex in Hong Kong, some of Asia's brightest celebrities were holding court. Chinese industrial designer Jamy Yang and Singapore-based TV presenter Dominic Lau were introduced as Tumi's latest "global citizens": influential leaders who view the world as their oyster.
The campaign, first launched last August, includes Grammy award-winner Eric Whitacre, Pirelli Tires head honcho for North America Paolo Ferrari and environmentalist Alexandra Cousteau.
To mark the occasion, Yang designed a traveling art installation that encapsulated the brand's philosophy of making traveling easier by converting a suitcase into a motorized vehicle. Instead of the traveler wheeling his luggage, the case literally carries its traveler to his desired destination.
Along with the new global citizens, Tumi selected 12 "trailblazers" from across Asia to create art installations that illustrate their personal journeys with the brand. Works by the likes of Hong Kong fashion designer Barney Cheng, Philippine TV host Karen Pamintuan and Malaysian shoe designer Ung Yiu Lin were exhibited, giving a glimpse into their frequent-flyer pleasures and pet peeves.