French crepery has the aura of Paris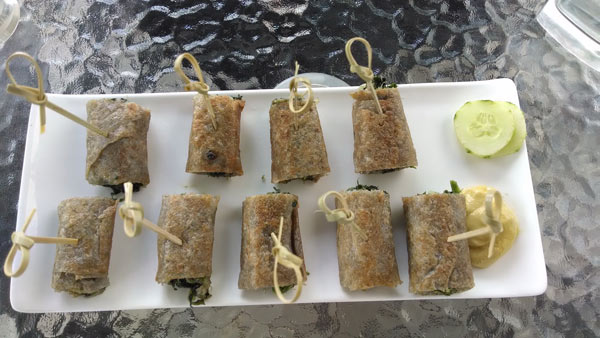 The beef rolls, stuffed with minced beef, spinach and garlic, are served with a dollop of ketchup or mustard. [Photos by Bidisha Bagchi/For China Daly]
I remember our days in Paris when we'd take an evening stroll and casually walk into one of the roadside creperies, watch the pancakes being filled up with rich moist chocolate and pick up one for each of us.
Shanghai's Crepe de France brought back those old memories.
It is truly a roadside eatery: There is no indoor seating. A half-dozen big garden umbrellas shelter sets of chairs and tables where one can sit and order food. A French gentleman welcomed us and took our orders, and we could see the kitchen where two young Chinese chefs created all the crepe magic. The idea of outdoor seating is nice for clear summer days.
The menu card is brief and to the point, with three main items: crepe rolls, galettes and crepes.
The rolls section has just two options, caramel pork rolls and beef rolls. The first is a dish of buckwheat rolls, stuffed with minced pork, salted butter, caramel and ginger, cut into nine pieces. The beef rolls were stuffed with minced beef, spinach and garlic served with a dollop of ketchup or mustard. The rolls are not the usual crispy ones - these aren't fried.
The galettes are the main dishes here - thin savory pancakes made with buckwheat flour and usually stuffed with all things good. The choices were ample: "La complete gallete" came with ham, Emmental cheese and eggs. In the "L'ouest galette", ham was replaced by bacon. Pork sausages, egg and Emmental cheese were rolled up in a galette called a "La hot dog galette", while the spinach, cream, Emmental and French goat cheese-stuffed galette is sure to bring a smile and perhaps childhood memories - it is called La Popeye Galette.