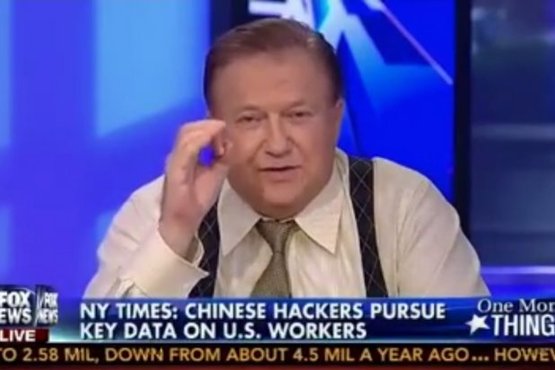 Screen grab shows Fox News host Bob Beckel co-hosting the program The Five last Thursday, during which he makes a racist comment about Chinese people. [Photo/tv.yahoo.com]
A California state senator has called on Fox News host Bob Beckel to step down over his recent racist comment about Chinese people.
Senator Ted Lieu's call came after Beckel said during a broadcast last Thursday of "The Five" that "Chinese are the single biggest threat to the national security of the US … Do you know what we just did? As usual, we bring them over here and teach a bunch of Chinamen – err, Chinese people – how to do computers and then they go back to China and hack into us."
Lieu said that Beckel's comment was the second time he had made ill-considered remarks about Chinese people; in 2013, Beckel said on The Five that one time he had gone swimming, and afterward his "eyes blew up" and "it made me look Oriental."
Lieu, a Chinese-American, said he was outraged. "I am one of those 'Chinamen' with 'Oriental' eyes that immigrated to America and majored in computer science. I also served on active duty in the United States Air Force and continue to serve my country in the Reserves. And today, as an American and as a California State Senator, I call on Mr. Beckel to resign."
"America is great because anyone can be an American. Our country is the strongest in the world because of our diversity. Unfortunately, Fox News host Bob Beckel does not understand what it means to be an American."
"But Mr. Beckel's comments are more than just racist and stupid. His ignorant views are dangerous because it is precisely those types of extreme xenophobic and racist views that caused our government to massively violate constitutional rights during World War II and force more than 100,000 Americans into internment camps.
"It is Mr. Beckel's extreme racist and xenophobic views that are a threat to the American people and he should resign now."
Related: ABC's Fresh Off the Boat gets some mixed reviews from Chinese Americans