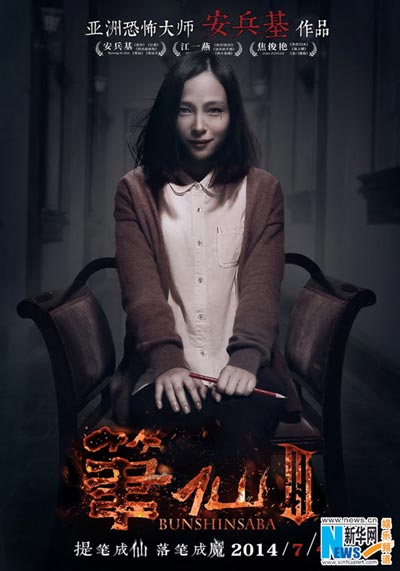 Poster for the horror film, Bunshinsaba 3, starring Chinese actress Jiang Yiyan, which was released in China on July 4th, 2014. [Photo/Xinhuanet.com]
Ahn Byeong-ki, a South Korean film director, producer, and screenwriter specializing in horror films, says it is just because horror films are very new to Jiang that her true feelings can be expressed through her acting, which enables an intense feeling of fear to appear more natural.
Jiang revealed in the interview Bunshinsaba 3 has made her a new fan of thrillers.
"In fact, I began to watch horror movies, since I decided to act in Bunshinsaba 3. It's so marvelous. It used to be difficult for me to understand why thrillers could have so many fans. However, when I became an audience member for thrillers thanks to "Bunshinsaba 3 or Bi Xian 3" I suddenly found I really enjoy the stimulant process."
31-year old Jiang Yiyan began to act in TV series in 2000. Jiang Yiyan gained fame for her role in Deadly Delicious, Nanjing! Nanjing!, and Bullet Vanishes.
The actress has long been well recognized for her adorably sweet film roles. However, Jiang doesn't want to be stereotyped in all her films.
"Why should I repeat the same type of roles? A change is necessary if you feel you are already capable of doing a piece of work. So big transformations have taken place in the roles that I've taken. I used to resist acting in thrillers, although I've made attempts in trying a big variety of roles. However I do tell myself that I should also experience those things I was unwilling to try."
Bunshinsaba was released in China in July, 2012. The film grossed 61 million yuan in the first seven days of its theatrical run. Since the film's release, director Ahn Byeong-ki has become the first South Korean director to set up his own workshop in the Chinese mainland.
Bunshinsaba II, which was released last year, is again a box office hit earning around 82 million yuan.