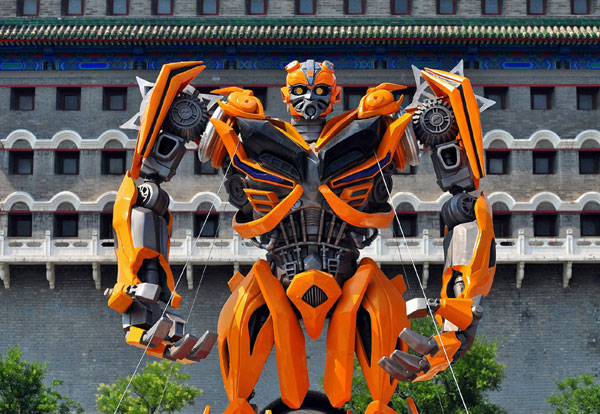 The Auto-Bots stand stalwart against the forces of evil on June 24, 2014, at a popular tourist spot on Qianmen Street in Beijing. The Auto-Bots attracted a wave of attention and pictures from Transformer fans and visiting tourists. [Photo/CRI]
The Hong Kong Convention and Exhibition Center exploded into pieces, and the iconic star ferry was sucked into the air around Victoria Harbor. Giant robots fell alongside the Bank of China Tower, while a supercar was earlier drifting in the packed streets of Sham Shui Po old town.
When Hollywood has turned these Hong Kong's landmarks onto the movie screen of the worldwide summer hit "Transformers: Age of Extinction", it won over the local moviegoers thanks to the heavy doze of the familiar sceneries.
As of July 10, Michael Bay's blockbuster, the fourth in the series, has grossed 82 million HK dollars (about $US 10.5 million) in local theaters after only two weeks, according to the latest report from Hong Kong Box Office Ltd., not to mention it having scored a record for first week debut in Hong Kong cinemas and the best non-holiday opening day.
There were still a good number of people lining up to buy tickets for "Transformers 4" at a theater in Causeway Bay on Wednesday, a working day. Despite the movie went into the third weekend of release, it continues to amaze Hong Kong by running over 110 screens from more than 12,000 admissions on that day, according to the local film website Wmoov.
"I find it very amusing when I heard Li Bingbing arguing with Ray Lui," said Mr. Law, who just came out of the show, adding that he has never expected to see so many Hong Kong scenes in a Hollywood blockbuster before. "I am quite excited and touched after seeing all those familiar buildings."
Another audience Mr. Li said he has been a fan of the "Transformers" franchise for years, and this fourth entry was bloated with eye-popping action sequences, while Hong Kong artists ' participation was another highlight.
A manager from the UA Cinemas' marketing department told Xinhua that the ticket sales of "Transformers 4" has surpassed the prior three owing to a large pool of fans the sequel has accumulated and the new IMAX-3D technology first ever used in the shooting.
He said the 2D and 3D movies generally start selling tickets two to three days in advance, while the IMAX ones would start a week ahead, with the tickets for "Transformers 4" sold out very soon.
"The movie is in its third week of release now and the public excitement may be a little cooler than two weeks ago, yet the movie's popularity remains amazingly hot in the city," he said.