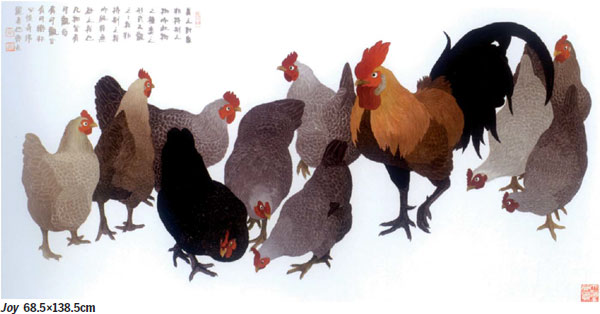 Wu Qiming is able to create realistic ink and wash paintings with a traditional Chinese brush, Li Fusheng and Li Jin report.
China is not short of painters, both real and self-acclaimed. But Wu Qiming has shown his true talent by blazing a trail with innovative use of ink and wash.
Born in Shanxi province, Wu developed an affinity for art, especially painting, when he was a child. Yet the 57-year old did not work as a professional painter until he was laid off as a worker in the early 1990s and came to Beijing in 2002 in quest of his artistic dream.
Even more unusual than his experience are his achievements. At least Hong Kong art critic and gallery owner Kowk Ho Mum thinks so.
Though a realistic painter, Wu paints with a traditional Chinese brush. Kwok said it is difficult because the artist must paint accurately yet quickly to ensure right shade of ink.
Smooth brushwork will give the painting a sense of beauty and rhythm, but a slip of the brush cannot be redeemed, said Kowk.
"So it takes highly skilled brushwork to produce steady, flexible strokes that have personal characteristics. If his unique style is to be further developed, it would be definitely a significant contribution to the Chinese art as a whole," said Kowk.
What surprises Kowk even more is that Wu paints on a wide range of themes, a stark contrast to most painters who work on one particular topic.
Among his subjects are traditional farmhouses and gardens, flowers and birds, furniture, temples, modern buildings, sculptures, figures and many other things.
"He has a strong ability to extract the extraordinary beauty from ordinary things," said Kowk.
"There is no doubt that Wu has developed mature painting skills and there is no border or limitation in his world of art."