Alsace on a plate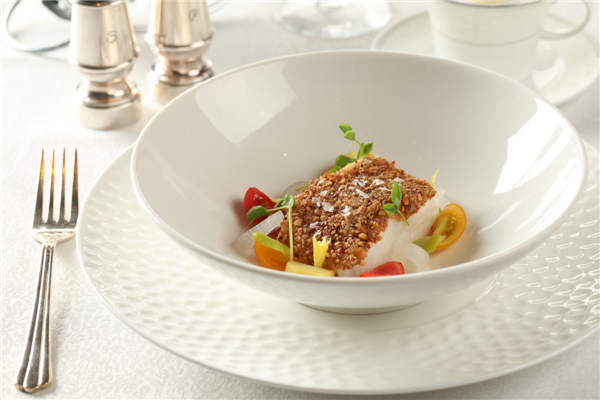 Seared cod with hazelnut crust, garden greens and vanilla-butter sauce. Photos provided to China Daily
The new chef at Heritage draws on French classics as he explores ways to keep his kitchen 'close to nature' in Beijing, Ye Jun reports.
The new executive chef at Heritage, one of Beijing's premier French restaurants, is a mere 28 years old. But he's certainly been around: He already has 11 years of experience working in the kitchen in different parts of France.
"It's important to travel and understand the ingredients and cooking techniques," says Gilbert Wolfarth from Alsace, France.
The chef combines new cooking methods with traditional fare in dishes such as half-cooked salmon with a base of sour and sweet passion fruit sauce, and topped with black olive oil confit. He also presents a beautiful black cod topped with nut crust in sweet and sour broth, dotted with greens and looking like a small garden.
"Many of the new chef's dishes can be easily recognized as typically French cuisine, compared to the more fusion style in the restaurant before," says Thomas Jouan, director of marketing at Sofitel Wanda Beijing hotel, where Heritage is located.
Some of these dishes are beef tartare, Burgundy snails ravioli, slow-cooked lamb shank with white beans, and "grandmother's traditional fruit tart".
In his native Alsace, he says, foods are rich and strong-tasting, including butter, meaty sweetbread, chicken and calf liver, and even seared kidneys. There are fresh mushrooms and "very nice white asparagus in spring to eat with mayonnaise".