Savoring the best for last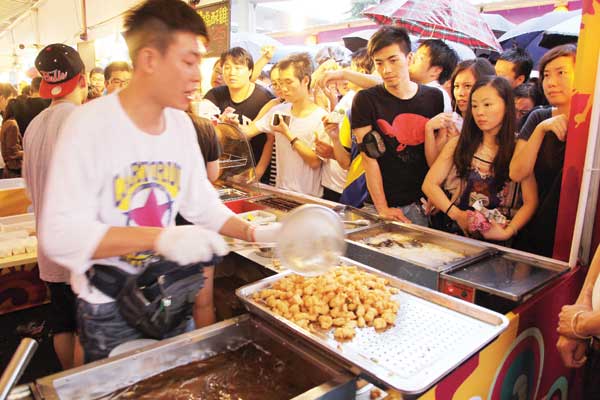 FRENZIED: Diners have to wait up to one-and-a-half hours for a portion of Taiwan snacks brought to Shanghai during the food festival. [Photo by Zhang Yu/For Shanghai Star]
Supper is a very important meal for the Chinese. The tradition of after-dark snacking dates back to the Tang Dynasty (AD 618-907), when a late-night curfew was lifted on important dates.
These days, however, it's the lifestyle change of staying up late to work or play that creates the need for an extra meal to replenish and recharge.
Shanghai residents are known for being China's epicures, and recently they gave their endorsement of the traditional snacks of Taipei's Shilin night market brought to the city for a food festival.
It certainly proves that the love of good food knows neither geographical barriers nor political divisions, and that both cities share a common appreciation of the good things in life.
In this issue, we help satiate those late-night longings with a list of where to go and what to eat in Shanghai. Wang Zhenghua files the reports.
They traveled far from right across town, perhaps 20 kilometers or more, and waited in line for up to two hours for a 20-yuan ($3) snack that was demolished in three minutes.
The downpour on opening day did not dampen Shanghai's eagerness to get a taste of true-blue street food from Taipei, and not even unhappy comments left online by a few frustrated by the weather and the wait could deter them.