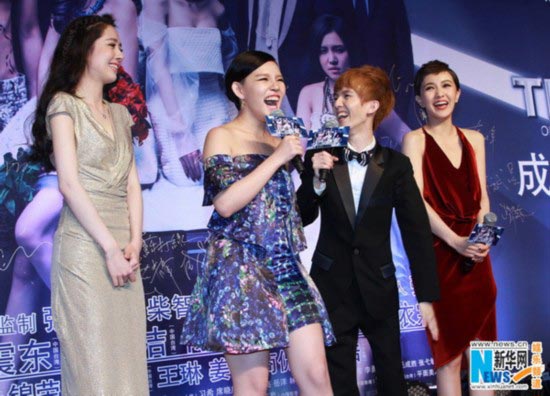 Chinese writer and director Guo Jingming's "Tiny Times 3" has outperformed "Transformers: Age of Extinction" in ticket sales in China. [Photo/ent.news.cn]
Chinese drama "Tiny Times 3.0" knocked Hollywood blockbuster "Transformers" off the top of China's box office ch
art
s during the week ending July 20.
After debuting last Thursday, "Tiny Times 3.0", which was inspired by author-turned-director Guo Jingming's young adult novel of the same name, raked in 320 million yuan ($51.6 million) in the week, according to figures released by China Film News on Tuesday.
The film tells a coming-of-age story of a tight-knit circle of four girls who come from different backgrounds.
"Transformers: Age of Extinction," the fourth installment in the robot movie franchise, earned 163 million yuan, ranking second on the charts.
The Hollywood blockbuster has taken more than 1.9 billion yuan since its debut on June 27.
Chinese thriller "The House That Never Dies" was third on the charts, making 160 million yuan in the week.
For more on Tiny Times, click here