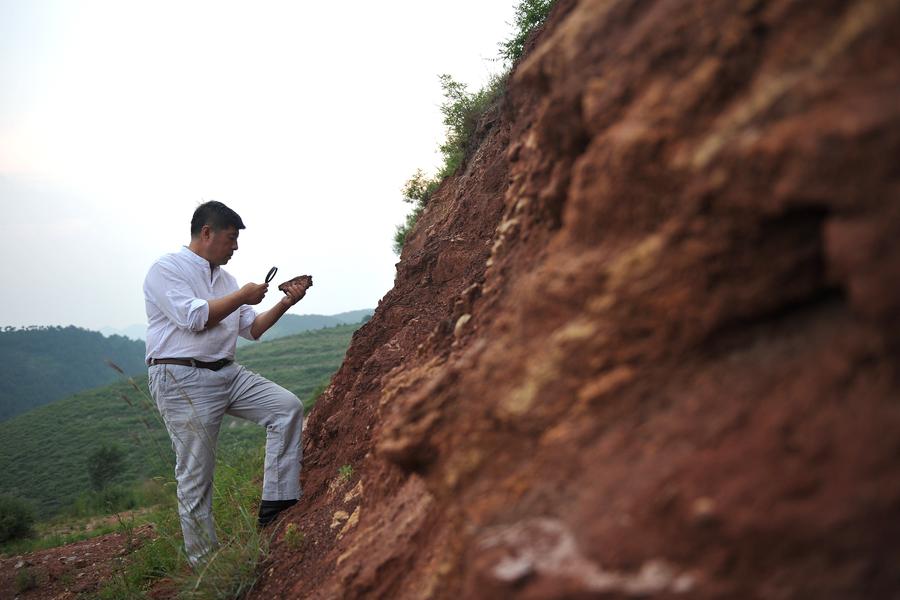 Bai Xuefeng looks for the raw materials of purple clay in the mountains in Chaoyang city, Liaoning province, July 21, 2014. [Photo/Xinhua]
Rich with the mineral resources of purple sands, Kazuo Mongolian autonomous county, in Chaoyang, west of Liaoning province has a long history of producing purple sand items.
Recently, with the rapid development of the purple sand industry, a large number of assiduous and skillful artisans have sprung up like mushrooms. Bai Xuefeng, of Mongolian descent, is one of them.
Born in 1970, Bai, a native in Kazuo, has long been influenced by the craft of making purple clay items since his childhood.
So he made up his mind to set foot in this field and try to develop his own technique. In 2011, Bai found the highly-valued distinctive raw material of purple clay in Kazuo named "Heidengtou".
Through constant research and trial and error, his workshop, with 30 artisans, have so far developed over a hundred different kinds of purple clay products made from "Heidengtou".