Major munchies from the mainland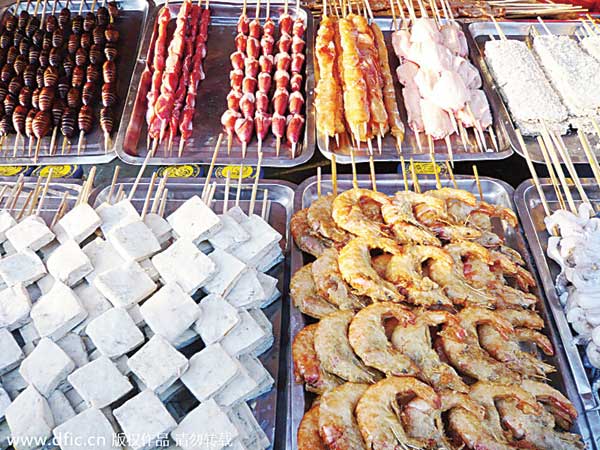 Barbecue meat / vegetable skewers [Photo/IC]
China's culinary influence ranges from north to south and east to west, with each region having its own distinctive flavors. Wang Zhenghua introduces a smorgasbord of mainland street food, perfect for that midnight snack.
Taiwan is a melting pot of culinary influences, and so it has developed its own street food culture.
On the Chinese mainland, there is an even larger culinary atlas to explore.
Here is a starter list of some of the foods that bloggers list as their favorite snacks, handy for starting off an epicurean adventure.
Baked cold noodles
Origin: Northeast China
Made from corn noodle rolled out into a thin slab, it's braised with egg and you have your choice of onion and parsley and Chinese sausage as a filling.
It can be spicy, sweet, sweet and sour, extra salty, extra sour to whatever degree you desire.
The noodles are lightly fried on an iron griddle and costs just a few yuan.
Barbecue meat / vegetable skewers
Origin: Xinjiang, but now popular everywhere
The vegetables, fish, squid or marinated meats are normally grilled and these are eaten with more hearty fare like beef, lamb, chicken wings, chicken thighs, chicken hearts and gizzards.
During the summer, restaurants set up a grilling station outside and you can see diners eating al fresco, enjoying these delicious treats washed down with nice, cold, refreshing beer.