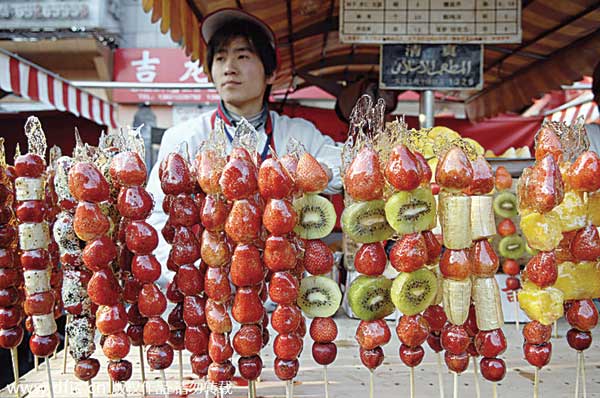 Candied haw [Photo/IC]
Spicy Malatang dip
Origin: Sichuan/Yunnan but available everywhere
This is the traditional spicy soup from Sichuan province, with variations according to the region.
In western Sichuan, malatang is similar to the hotpot you can also find in other parts of China. The Chongqing version is slightly different in that you pick your chosen meat and vegetable skewers from the chiller and get the cook to boil them up in his huge cauldron.
Some common ingredients include tofu, fish balls, lotus root, mushrooms, potato, quail eggs and pork lung.
Candied haw
Origin: North China
The hard sugar glaze coats everything from red haw fruits to mandarin wedges to strawberries.
The fruits are skewered on a bamboo stick and dipped into thick sugar syrup, which quickly hardens in the winter months.
A piece of edible rice-wafer helps keep the fingers from getting too sticky. It is a healthy snack and especially attractive to those who do not like eating plain fruit.