Excess is his success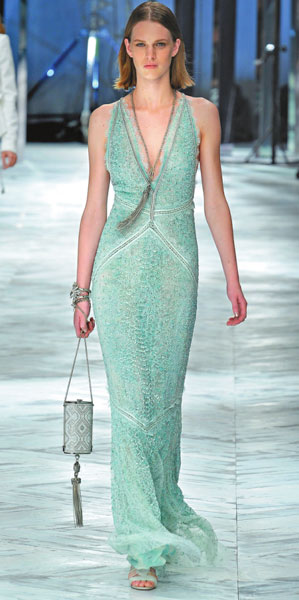 Roberto Cavalli womenswear spring/summer 2014 collection.
It is hard not to be captivated by the sheer exuberance of Roberto Cavalli, a designer who has been living the champagne life for the past four decades and-at the age of 74-showing no signs of cutting back on partying his way around the globe, traveling by private jet or personal yacht.
The Italian designer, who came to Beijing to launch the second of his stores in the country, is the king of bling, an individual who makes flamboyant, even outrageous, clothes, and believes in setting an extravagant example. Cavalli, as his Instagram followers will know, seems to be permanently in some kind of exotic location-posing at a Hollywood party with A-listers, on a scuba driving trip, or with one of his collection of super-fast Ferrari sports cars.
The always-confident entrepreneur draws no line between business and pleasure, partying with the very people who are his clients. Among the celebrities who wear Cavalli's clothes, and count him as personal friends, are David Beckham and wife Victoria Beckham, Cindy Crawford, Madonna, Beyonce, Sting and Jennifer Lopez.
"My customers are the richest and most beautiful women in the world so I have to go and see them and know their habits and wishes and create something special for them," he says. "Minimalism? I don't believe in it, even though some people like it. If you love yourself, how can you be minimalist if you are going to a party? If you wear minimalist design then nobody pays attention to you. Fashion should be like art-if you go to a mall today, so many designers look the same."
During his Beijing visit, Cavalli took time out to speak to a clearly-awed group of students at the Beijing Institute of Fashion of at a seminar organized by Vogue China. It was a long way from Cavalli's usual world, which is unrelentingly glamorous and vividly colorful, but it in no way diluted his irrepressible enthusiasm. The would-be designers were captivated by the rags-to-riches story of the humble-background Italian.