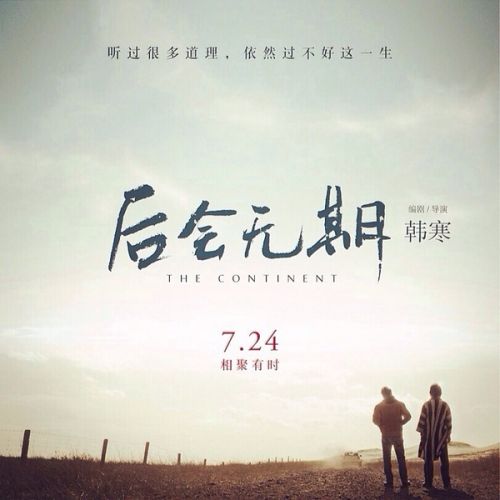 A poster of Han Han's new film "the Continent". [Photo/info.wuhan.net.cn]
Hong Kong
film director Johnny To has said he believed
Han Han
 would be a successful film director, at Han's recent film
premiere
for the "the Continent".
"I read Han Han's works, know he is a professional car racer, and I listen to his songs. How can there be such a talent and he was born in 1980s. This is rare."
To flied to Beijing and attended the premiere of Han Han's new film "the Continent" (Hou Hui Wu Qi). Though To said he hadn't seen the film yet, he still believed that Han would make it a success as he was quite successful in other areas.
To's appearance came as a surprise to Han, who was joined by actor's Feng Shaofeng, Bolin Chen, actress Wang Luodan, Yuan Quan and Joe Chen at the premiere.
To explained that he actually hated attending press conference's, even for his own films.
But as he really admires Han Han's talent like writing, singing and car racing, he flew from Hong Kong to Beijing to support him.
Han did not hide his feelings and said he was excited to see To. He explained further that he was inspired by To's film "All About Ah-lang" and decided to be a car racer.
Han's first film "the Continent" will hit Chinese screens on Thursday.