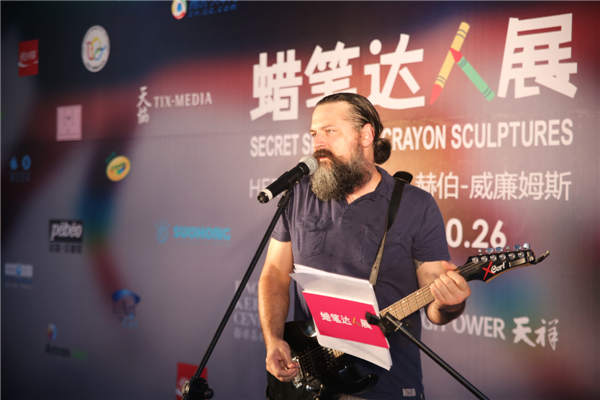 Herb Williams performs his own compositions at the opening of exhibition of his crayon sculptures. Photos Provided to China Daily
A US artist makes his mark with crayon sculptures. Zhang Kun reports.
He binds them. Cuts them. Melts them.
United States artist Herb Williams buys crayons by the thousands for each color, and he employs many inventive techniques to make the crayon sculptures now on show for the first time in China.
Secret Spectrum presents about 100 pieces of Williams' work at Jing'an Kerry Center, a new shopping mall on Shanghai's Nanjing Xilu until Oct 26. Most of the exhibits are sculptures, with some graffiti paintings, photos and a kaleidoscope installation, too.
"His works seems simple and easy to understand, but they are rich in meaning and involve issues of our time," says Xie Dingwei, president of Shanghai Tix Media Co Ltd, which brought Williams' work to China.
Tix Media has presented exhibitions of Pablo Picasso and Claude Monet in China, as well as a show of James Bond film props.
"We believe it's important to engage the young audiences," Xie says at the opening party for the exhibition. "The art scene is too market-oriented nowadays. The only way to change the situation is to cultivate our audience, starting from the children."