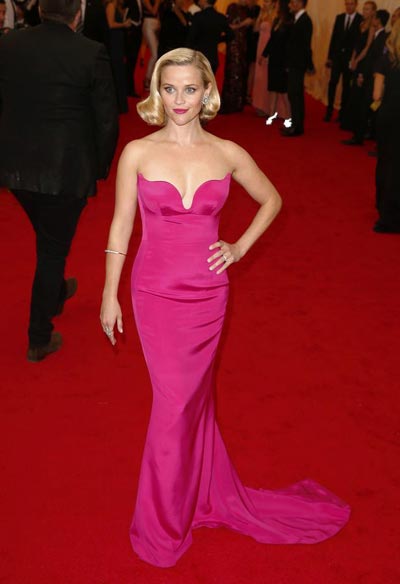 Actress Reese Witherspoon arrives at the Metropolitan Museum of Art Costume Institute Gala Benefit celebrating the opening of "Charles James: Beyond Fashion" in Upper Manhattan, New York, May 5, 2014. [Photo/Agencies]
The upcoming Toronto film festival will showcase a "big year" for Reese Witherspoon, James Gandolfini's final movie and Oscar-bait performances from several major Hollywood stars, organizers said earlier this week.
More than 300 feature films will be screened at the 39th Toronto International Film Festival, which runs from Sept 4 to 14. The event has traditionally been key for Oscar-conscious studios and distributors, attracting hundreds of filmmakers and actors to the red carpet in Canada's largest city.
Last year, Steve McQueen's 12 Years a Slave won the audience prize for best picture, before going on to win three Oscars including the coveted statuette for best picture.
In presenting this year's lineup, festival boss Cameron Bailey told a news conference in Toronto that fans of Witherspoon should be ready for a "big year" from the Oscar winner. The 38-year-old Witherspoon has been one of Hollywood's highest-paid and most bankable box office draws since she starred in the 2001 comedy Legally Blonde.
But she failed to gain credibility as a serious actress until her 2006 Oscar win for her turn as singer June Carter Cash - the wife of superstar Johnny Cash - in James Mangold's biopic Walk the Line.
In September, Toronto audiences will have an opportunity to see her again in two new films: The Good Lie about an American woman who takes in a Sudanese refugee, and Wild, the film adaptation of Cheryl Strayed's best-selling memoir.
Wild is directed by Jean-Marc Vallee, whose previous feature, Dallas Buyers Club began its journey to Oscar success in Toronto last year. James Gandolfini makes a posthumous return to movie screens in the gangland tale The Drop, shot just before his death in June 2013. His penultimate film Enough Said, a romantic comedy costarring Julia Louis Dreyfus, was warmly received in Toronto last year. This year, festival films will explore grief and depression, strangers colliding, America's racial divide and marital strife. Many filmmakers found inspiration in true events, splashing the lives of Beach Boys singer-songwriter Brian Wilson (played by Paul Dano), chess champion Bobby Fischer (Tobey Maguire), theoretical physicist Stephen Hawking (Eddie Redmayne) and World War II code-breaking hero Alan Turing (Benedict Cumberbatch) on the silver screen.
The opening film has yet to be confirmed, but organizers say Alan Rickman's historical drama A Little Chaos - starring Kate Winslet as a landscaper invited to design one of the fountains at Versailles - will close the festival.
For the first time, North America's largest film festival will showcase only world premieres over the first four days, including from directors Noah Baumbach, Susanne Bier, Franis Ozon, Lone Scherfig and Chris Rock.
The new policy was put in place as competition between film festivals around the world to land more premieres heats up, explains festival co-director Piers Handling. The Venice film festival and the Telluride film festival in the American state of Colorado both start at the end of August and overlap with the Toronto event.
Also this year, Robert Duvall and Robert Downey Jr. will appear as father and son in the court drama The Judge. Shawn Levies's This Is Where I Leave You - starring Jason Bateman, Tina Fey and Jane Fonda - follows four siblings who reunite after their father's death.