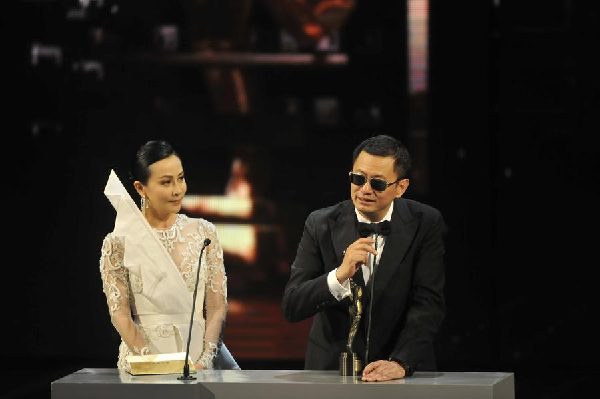 Chinese actress Carina Lau (L) looks on as director Wong Kar-wai delivers a speech on receiving the Best Director Award for "The Grandmaster" at the 33rdHong KongFilmAwards in Hong Kong, April 13, 2014. [Photo/Xinhua]
Alibaba continues to make waves in China's entertainment sector.
Entertainment trade publication, Variety, is reporting that the Chinese e-commerce giant revealed it is working with renowned "Grandmasters" director Wong Kar-wai on his upcoming films.
A spokesperson for Wong confirmed the deal with Alibaba, adding that details will be announced in the near future.
The deal was revealed in a regulatory filing by Chinavision, the Hong Kong stock exchange-listed production company that will soon be renamed Alibaba Pictures Group, according to the publication.
However, the filing also revealed that not all things are rosy at Chinavision. The production company is warning that it has lost between $12 million and about $23 million in the first six months of this year, down from almost $18 million in profits over the same time period last year.
Still, Chinavision issued a statement saying that Alibaba's ownership of the company will transform it from a "humble" enterprise to "part of a budding entertainment colossus."