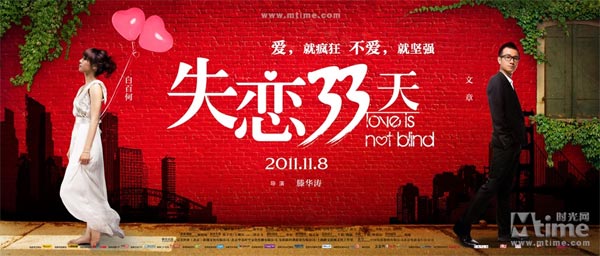 Promotional poster of director Teng Huatao's Love is not Blind. [Photo/Mtime.com]
Chinese President Xi Jinping presents China DVDs that reflect the real China with state gifts to Argentina's Vice President Amado Boudou during his visit.
Chinese President Xi Jinping was given an Argentine soccer jersey with his name on it from Argentina's Vice President Amado Boudou during his visit to the country's Congress in Buenos Aires on July 19.
In return, Xi offered his state gift, which included a set of Chinese DVDs.
Xi presented Beijing Youth and To Elderly with Love, both works by renowned Chinese director Zhao Baogang, as well as Love is not Blind by Teng Huatao, a 2011 low-budget success at China's box office.
Xi's recent diplomatic visits have been rich in cultural exchanges, and films and television dramas can often provide a form of "media" insight as they can easily resonate with any audience, both foreign and Chinese.
During his speech in Tanzania, Xi mentioned how Beautiful daughter in-law - a hit Chinese television drama - created a stir in Tanzania as it introduced the everyday-life of Chinese people to the world.
More recently, during Xi's visit to South Korea with first lady Peng Liyuan, he expressed awe at the sight of Changdokkung, the palace of ancient South Korean kings, as hit Korean drama "Dae Jang Geum" was filmed at the same location.
Previously, art pieces such as silk, porcelain and traditional paintings were commonly presented as state gifts. This is the first time something as high-tech as a set of DVDs took on this grand role. It is a more modern approach and opens another window for the world to see the real China.
Teng was not aware that his film, which was the top-grossing low-budget film of 2011, was selected as part of the state gift, and even called his film investors to double check that it had really happened.
"They told me they wanted to choose works that reflect the modern China and the lives of youth living in today's China," said Teng.
Zhao Baogang, who is working on a new film, was also not aware of the news. The soap opera godfather was "definitely very happy and honored" for being a part of the state gift. Even though the works will not air on local TV channels, Zhao still believes the move is a great step forward.
"Our leaders are taking our own cultural products with them as they visit the world. This is raising awareness to promote the cultural industry globally, because at this moment, our work still faces many walls to get out of the national gate," said Zhao.