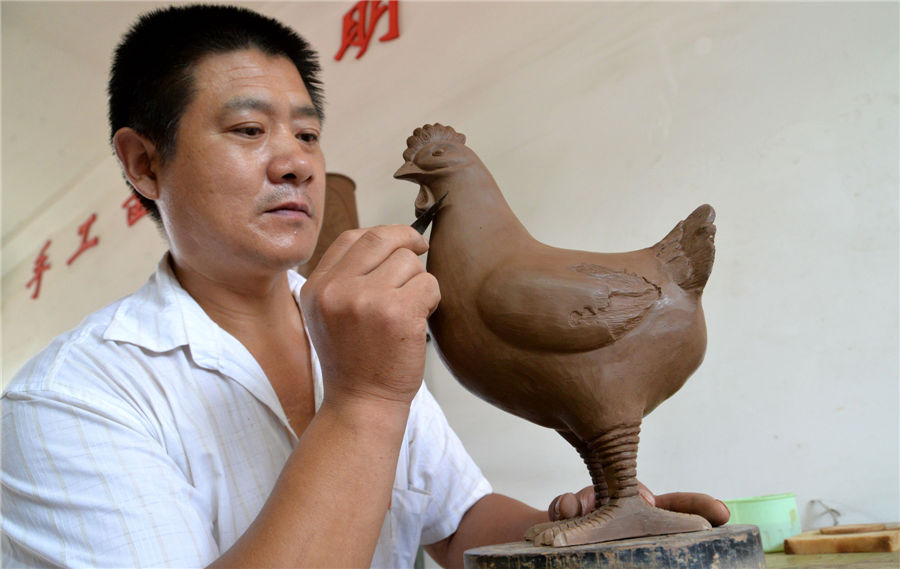 A craftswoman applies the finishing touches on a black pottery art work in Guantao county, Handan, Hebei province, July 16, 2014. [Photo by Hao Qunying/Asianewsphoto]
Guantao county in Handan, Hebei province is famous for its black pottery, which has a history spanning more than 4,000 years.
Passed down from generation to generation, black pottery artistry here has always continued to evolve developing more than 1,000 varieties using elements of shadow engraving, anaglyphs, colored drawings and lacquer paintings.
In ancient times, the frequent overflow of the Yellow River resulted in the area's deposition of a large quantity of high-quality clay, which laid the foundation for Guantao's pottery industry.
To improve its black pottery artistry, local businesses in Guantao have cooperated with colleges and scientific research institutes to continue to develop the ceramic art. Nowadays, black pottery products from Guantao county are exported abroad to more than a dozen countries and regions.
Guantao is now widely recognized as the "hometown of black pottery art" and the craft is listed as an intangible cultural heritage in Hebei province.
Black pottery art "National Doll" made by local people was once given to foreign delegations as national gifts at the 2008 Beijing Olympic Games.