A kiss of Rome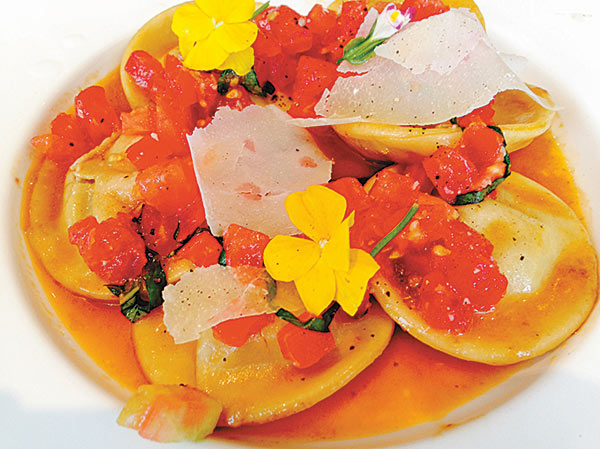 The veal ravioli with butter and sage is cooked very al dente. [Photo provided to China Daily]
The new Italian eatery at Beijing's Kempinski hotel marries casual comfort with a fine-dining ambiance that its predecessors never quite mustered, Mike Peters finds.
The long-awaited opening of Via Roma comes after Beijing's Kempinski hotel took a wrecking ball to its previous Italian eatery. The Villa La Gondola had become a bit of a decaying grande dame on the periphery of the hotel, struggling to sustain the five-star consistency of its surroundings, the relaxed atmosphere of its uber-German sister restaurant, the Paulaner Brauhaus, and deliver a fine-dining experience. A turnover of chefs and unpredictable service sealed its doom.
After recruiting the effervescent Francesco Sanna as the hotel's Italian chef, management wisely gutted the place for a makeover. Sanna, a Sardinia native, did the same with the menu, and the current service staff is as polished as any at the parent hotel. The combination makes the airy black-and-white-tiled new eatery a bright spot in every way.
In a city where folks can be skittish about seafood, Sanna hustles to source quality sea creatures and makes them stars on his menu.
There are five different breeds of lobsters scuttling in the live tanks on the night of our first visit, and the chef requires that his suppliers check the tanks twice daily to make sure the crustaceans are not just alive but lively. He sells more Boston lobsters than any other, thanks to that species' good press, but he promises more gustatory pleasure from rock lobsters or the surly-looking but apparently delicious French Blue.