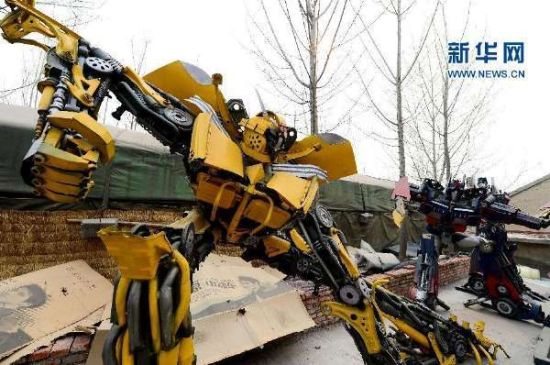 A transformer robot created by a Chinese farmer. [Photo/Xinhua]
The buzz surrounding the Hollywood hit "Transformers: Age of Extinction" in China has inspired a group of villagers to give up their day-jobs to create robots.
In Xiaoye Village, a small town in east China's Shandong province, Wang Shizun stands on a ladder to put the finishing touches on a sculpture. It's one of his team's latest creations.
But this isn't a classical figure study or even a piece of abstract art - it's a three-meter tall futuristic robot inspired by movies such as Transformers.
Wang guides a paint sprayer around the robot's chest, adding bursts of color to the metal form. It's the last stage in a process that begins with a careful plotting of the robot's features.
"Once we have the structure, all the parts are welded and assembled by piece according to the blueprint. Later, we will clean up the sculptures so that they are ready for painting. The paint colors are selected and mixed by ourselves and are rust-proof."
Movies like the "Transformers" series have been huge hits in China. The latest movie in the series, Transformers: Age of Extinction, opened in China to a record box-office weekend haul of over 600 million yuan, that's almost $US 97 million.