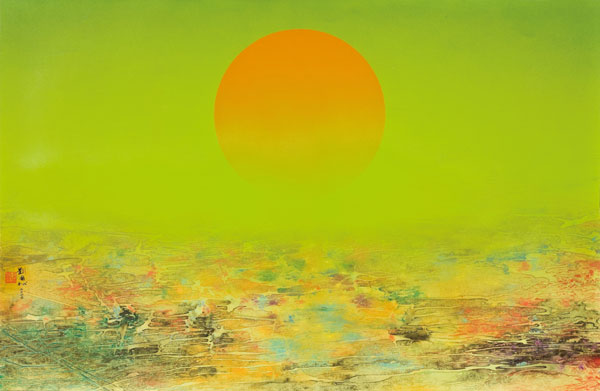 Liu Kuo-sung's The Red Sun Rising From Five-Flower Pond is on display at the Beijing exhibition Rendering the Future. Photos Provided to China Daily
Traditional ink-and-wash paintings are being rethought by bold contemporary artists who are combining ancient techniques with new ideas. Lin Qi reports.
In recent years, three terms have become popular buzzwords in the art community - new shuimo (ink-and-wash painting), experimental shuimo and contemporary shuimo.
Never has the art community and market invested so much energy in adapting traditional ink art to modern life.
Behind this swell of interest in contemporary ink painting are art investors, who want to see the commercial value of the work increase. But gallery owners and curators worry that the value of contemporary ink-and-wash painting may soon crash after being artificially inflated due to excessive market hype. They urge for more attention to be paid to serious artists who devote years to perfecting their work.
"People are sometimes hasty to establish a concept and categorize certain works. It ends up with too much time wasted on empty talk. People do not dedicate enough time and patience to seeking out solid work or seeing how artists are exploring the territories of ink art," says Yin Shuangxi, a professor with the Beijing-based Central Academy of Fine Arts.
Yin has curated the current exhibition Rendering the Future which displays representative ink works of 18 Chinese artists, such as Gu Wenda, Xu Bing and Zhu Wei.
In the early 20th century, Chinese artists, especially those who studied overseas, started to modernize classical Chinese painting by incorporating Western art techniques. But they largely stuck to traditional teachings.
It has only been in recent decades that artists, influenced by Western contemporary art, have made innovative breakthroughs in the art form. Rendering the Future reflects the diversity of styles and forms with which artists seek to revive the philosophies that ink art embodies. They decline to live like a traditional ink painter who drew inspiration from seclusion. Instead they import more social critiques in their work.