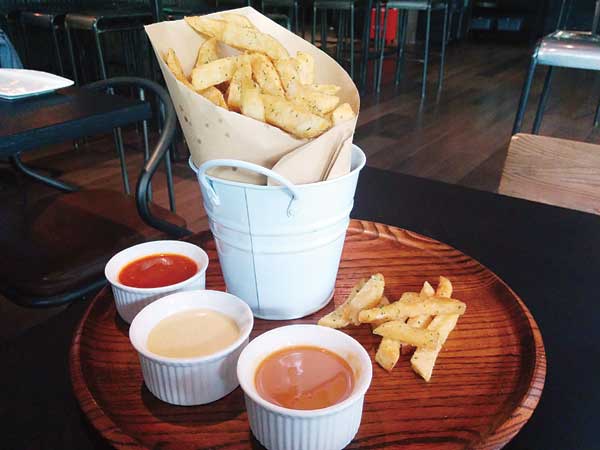 High food: The humble French fries are given a boost with the scent of truffles, while chicken rilette is freshened with cranberry — all in a casual, techy ambience. [Photo provided to Shanghai Star]
With cutting-edge décor and off-the-chart fusion food, Liquid Laundry is attracting Shanghai's fresh young gourmets wanting more than just the usual set menus. Judith Huang stops by for a bite.
Entering Liquid Laundry's high-ceilinged space is like walking into an underground nightclub, with industrial finishes, its name in lights and even a deejay booth in front of a row of vats encased in glass.
As a gastro-pub hybrid, the brewery/kitchen makes its own house-crafted beers on the premises, as the vats proudly proclaim, and food is modern American with a twist.
Set lunches came in 70, 90 and 130 yuan options, but we opted to order a la carte, partly to order the delectable French fries (48 yuan).
These chunky numbers came in three options – sea salt, parsley garlic and chilies or the ubiquitous truffle, and we settled on the last. With a glamorous name and ingredient like that, how could we not?
The fries came with three dips that instantly perk up the taste buds: creamy garlic aioli, curry ketchup and miso mustard butter. Golden yellow with flecks of parsley, crunchy on the outside and soft on the inside, they were everything French fries should be. And yes, they tasted of truffles, ever so slightly elevating the humble fry to a gourmet nibble.
For the main, I had the chicken rilette with cranberry relish, onion compote and beer mustard. Spread on thin pieces of lightly toasted and buttered bread, the combination of flavors and textures was pleasing to the palate, crunchy, stringy and tangy at the same time.