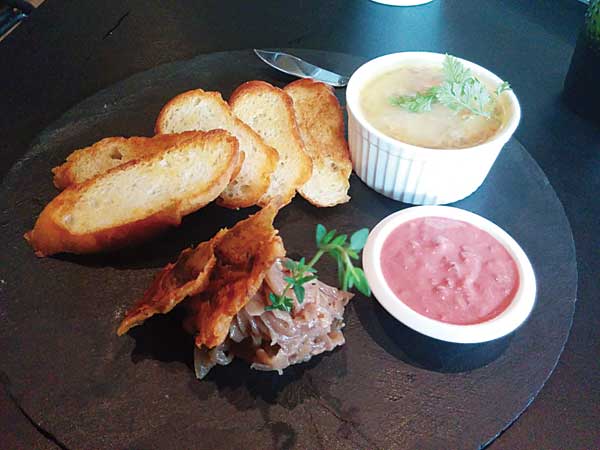 High food: The humble French fries are given a boost with the scent of truffles, while chicken rilette is freshened with cranberry — all in a casual, techy ambience. [Photo provided to Shanghai Star]
The cranberry relish gave it a nice fruitiness, while bits of carrot and onion in the rilette complemented the chicken. Slices of deep-fried chicken skin, fried to a crisp and very crunchy, added yet another texture to the mix, making for interesting eating, though it was difficult to arrange all the elements for the perfect mouthful.
At dinner, things get more interesting with more starters to share and choose from. Truly outstanding were the beer-braised beef tongue sliders, which come in threes, practically glistening on their white plate.
A twist on the classic American slider, the beef tongue was grilled to perfection, spurting out juices with every bite. Fresh horseradish aioli and pickled carrots complemented them perfectly, and we had to order another plate to satisfy our eagerness.
Also tender and juicy was the crispy fried pork trotters with sauce gribiche and red onion escabeche. With crunchy skin and succulent fatty portions, it was well-roasted and delicious.
Another classic with a twist were the duck nuggets which we had never seen anywhere else.
Crumbed and deep-fried and filled with the dark meat on the inside, this was not your neighborhood fast food nugget. We detected an Asian influence in its pairing of plum sauce and house pickles. Don't mess with a good combination.