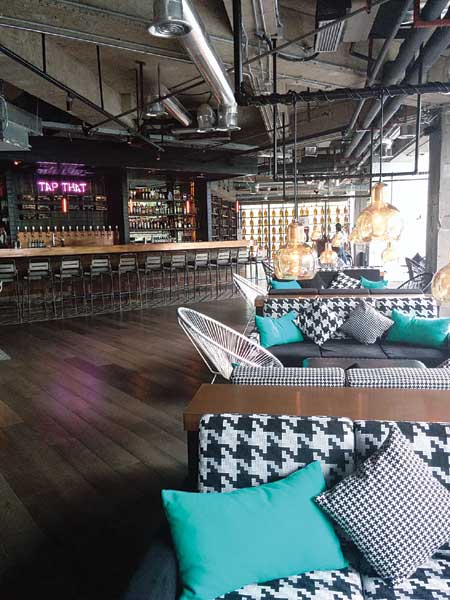 High food: The humble French fries are given a boost with the scent of truffles, while chicken rilette is freshened with cranberry — all in a casual, techy ambience. [Photo provided to Shanghai Star]
All this was, of course, washed down with some of Liquid's house-crafted beer. The Workday IPA was a clear copper color, with bright citrus and mango notes and a malty aftertaste.
Paired with the amazing French fries, it made for the perfect TGIF after-work drink.
Last but not least came dessert, in the form of warm chocolate tart with berries. Though a little rough around the edges, its gooey consistency and brownie-batter-like taste won over the chocoholic in me.
Meanwhile, the raspberry sorbet it came with brought a refreshing tang and tartness to the dish, and the hazelnut cornflake biscuit, added delightful texture. After the intensity of the chocolate, the oversize blueberries also lent it a wholesome touch.
In short, don't leave this place off your laundry list, particularly if you feel like some creative pub grub on a Friday night. The chain curtains and exposed pipes of the industrial-chic décor may even make you feel like taking to the dance floor, if the food doesn't do that already.
IF YOU GO
Liquid Laundry Kitchen & Brew
Address: 1028 Huahai Middle Road 2F
Telephone: 021-6445-9589