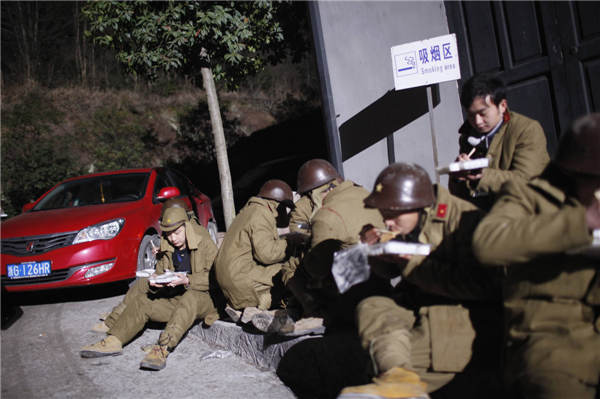 Actors in Japanese military uniforms eat dinner on the set of a World War II-era movie at the Hengdian film city.[Photo/Agencies]
Entertainment has its place, but outlandish TV shows with Japanese war themes do not serve the solemn memory of history, Han Bingbin reports.
A female warrior is pressed against the ground by a group of Japanese soldiers who viciously rape her. With unexpected strength, she grabs a bow and arrows near her while suddenly rolling herself over and jumping to the air. What followed is a scene that goes far beyond realism: Without missing a shot, she kills all the Japanese soldiers in the blink of an eye.
In another scenario, a Chinese knight-errant, who's obviously a kung fu practitioner, punches his fist through the body of a Japanese soldier and tears him in half. This action is mockingly remembered by Chinese netizens as "shredding a squid".
Such overly exaggerated plots have caused a massive online wave of criticism targeting Chinese TV serials that celebrate heroes during the War of Resistance against Japanese Aggression (1937-45) but have blatantly exceeded what is proper.
In May last year, the State Administration of Press, Publication, Radio, Film and Television removed all TV serials set during the period from primetime hours, and strictly forbade those showing signs of legendizing or overly dramatizing war events from being aired at all.
However, the administration recently required China's satellite channels to broadcast TV serials with anti-fascist war subjects between early September and the end of October, to honor the 69th anniversary of the war victory.
It's not clear what to expect on Chinese screens as major channels are reportedly busy rearranging their program tables. But it has raised concerns that such absurd war dramas may once again take over Chinese screens.
As Chinese TV serials still have to undergo official review, many TV genres that once flourished on screen, such as crime, time-travel and spy-themed dramas, have been reduced significantly in number after being restricted without explanation.