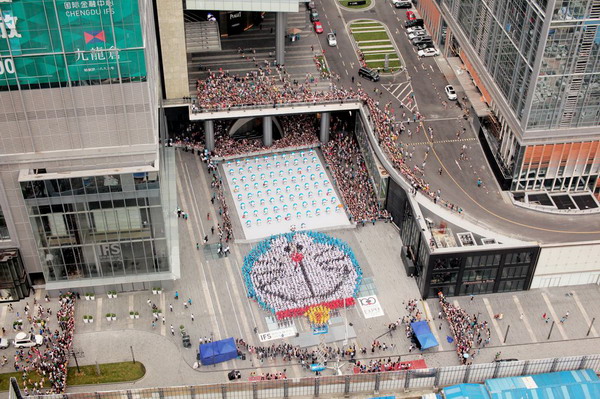 Exactly 1,293 volunteers stand in formation to create a portrait of Doraemon, one of the most popular Japanese cartoon characters, in Chengdu, on Aug 16. Photo provided to China Daily
A portrait of Doraemon, created by 1,293 volunteers standing in formation, amused local residents and visitors in downtown Chengdu, Sichuan province on Aug 16.
Doraemon, created in 1969, is one of the most popular Japanese cartoon characters. He is a blue cat-like robot of the future, as tall as 1.293 meters - the average height of fourth-grade pupils in Japan in 1969.
The show at Chengdu International Financial Square is part of Chengdu Doraemon Secret Gadget Exportation, hosted from Aug 16 to Sept 27. The Expo has won great acclaim in Hong Kong, Taiwan, Beijing, etc.
The 102 full-size Doraemon models in various styles and participating in various activities were also displayed. They made personal contact with visitors, including a panda-like Doraemon model, and a earth-like one. They were specially designed for Chengdu.
Famous actress He Yunshi and actor Zhou Bohao from Hong Kong made an appearance at the display and amazed local residents.