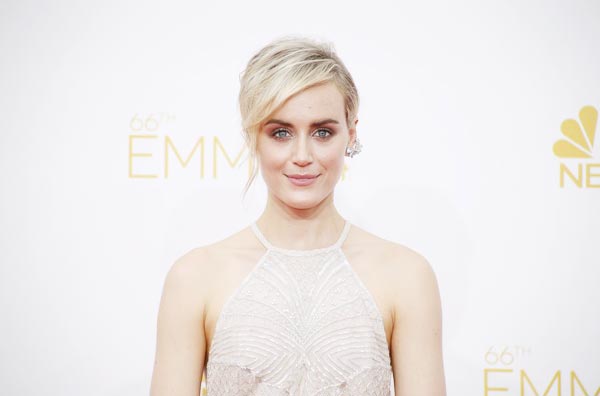 Taylor Schilling from Netflix "Orange is the New Black" arrives at the 66th Primetime Emmy Awards in Los Angeles, California August 25, 2014. [Photo/Agencies]
Drama over drama race
"Orange" is one of the three television upstarts that could shake up the Emmys in a validation of the industry's move toward sophisticated, long-form storytelling.
Led by Oscar-winner Matthew McConaughey and Woody Harrelson from HBO's murder mystery "True Detective," a new breed of TV backed by film stars and cinematic vision will square off against Emmy stalwarts "Breaking Bad" and "Mad Men" for the night's top honor, best drama series.
"We are in a time when television is the best that it's ever been, so just look around and realize that everyone who's here deserves an award," said Beau Willimon, the creator of Netflix's Emmy-nominated political thriller "House of Cards."
With big broadcast networks again shut out from the best drama series race, AMC's drug tale "Breaking Bad" will defend its title against "House of Cards," AMC ad world portrait "Mad Men," PBS British period series "Downton Abbey," HBO's fantasy epic "Game of Thrones" and "True Detective."