When Liu Baoshan created the Shaolin Tagou Martial Arts School 36 years ago, he had only one student.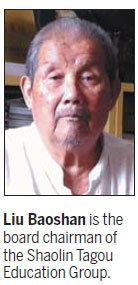 But with increasing interest in kung fu and its evolving image on the back of the country's development, Liu now boasts 35,000 students in six schools.
"The growing number of kung fu learners is a result of social development," the 83-year-old said.
Liu, board chairman of the Shaolin Tagou Education Group, said that his ancestors had learned martial arts at the Shaolin Temple, China's most famous Buddhism monastery, starting from the Qing Dynasty (1644-1911).
Liu started to teach martial arts in his 20s, but the government prohibited the practice in the 1950s since some kung fu groups had become criminal gangs then.
The ban on martial arts was lifted in 1959 after some kung fu practitioners took part in an international competition and struck gold, he said. Still, Liu could not charge for his kung fu lessons since private businesses were not allowed during the "cultural revolution" (1966-76).
The situation remained unchanged until 1978, when the Communist Party of China launched the reform and opening-up policy. The reform, pushed forward by late leader Deng Xiaoping, legalized private enterprises.
"More and more people want to learn martial arts since it can make them healthier," Liu said, adding that the number of students has been growing by 1,000 annually.
The Shaolin Tagou Education Group includes primary, middle, occupational and international schools to meet the demand of different learners.
"We have continued to attend international competitions and large performances in recent years, which has helped build our reputation," Liu said. His group's students have performed in State broadcaster China Central Television's Spring Festival gala for 12 years.
The students have won 379 gold medals in the Olympics Games and other world-class competitions, according to figures from the group.
"We are optimistic about the future of our group and its kung fu since more people are making sports a higher priority," he said.
Related:
Students of major martial arts school endure tough training for high-wire act at Youth Olympics show. More...
Like many fellow Americans, Colin Malick used to think kung fu was more of a "Hollywood thing" rather than martial arts.More...