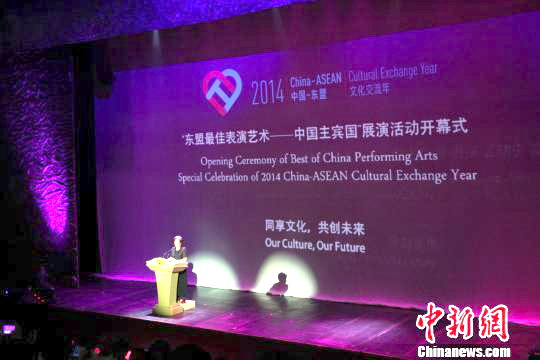 [Photo/Chinanews.com] 
"The show was very successful and could fully describe the Chinese culture, as an audience, what I want to say is 'I am longing for more'", an official from ASEAN secretariat has said.
The one-hour Taiji Grand Stage Show which featured a Kung Fu drama integrating seven kinds of time-honored Chinese feats with flexible lighting, backgrounds and multimedia display is part of the special celebration of the 2014 China-ASEAN cultural exchange year.
"Taiji conveys a harmonious balance of ideas and is the essence of Chinese culture," ASEAN Community Affairs Development Director Danny Lee told Xinhua after the show. "I wish more and more Chinese culture like Taiji can come to ASEAN," he noted.
More than 500 people, including ambassadors and diplomats to ASEAN, Indonesian officials, business people and representatives of local Chinese communities packed the theater Monday evening.
Chinese Minister of Culture Cai Wu said in a congratulatory messages on the opening ceremony that the shows prepared for this China-ASEAN cultural exchange is set to share with ASEAN the flourishing Chinese arts and promote good-neighborliness and friendship between China and ASEAN.
The 2014 ASEAN-China Cultural Exchange Year themed "Our Culture, Our Future" was proposed at the 16th ASEAN-China Summit last October, covering the cooperation and exchange in recreation and sports, media, tourism, youth and 15 other fields.
To complement the celebration in Indonesia, the Chinese government specially presents two shows, the "Taiji Grand Stage Show"and "Colorful China" with distinct artistic features, while the latter is a brilliant performance of ethnic song, dance and musical instruments which will be shown on Friday in Jakarta.
Yose Rizal Damuri, head of the Department of Economics at the Jakarta-based Center for Strategic and International Studies, shared with Xinhua that ASEAN and China need to do this kind of cultural exchanges a little bit more and often.
"Cultural exchange among countries is very important as it will promote our understanding and deepen international friendship," Damuri said.
Meanwhile, Australian Ambassador to ASEAN Simon Merrifield said that the cultural performance on Monday night was a very sophisticated one brought by China to ASEAN and set a real example for other conventional cultures to perform in a dynamic and modern way.
The special celebration of the 2014 China-ASEAN cultural exchange year in Indonesia is organized by Chinese Ministry of Culture and expected to conclude its performance on Friday.