The osmanthus room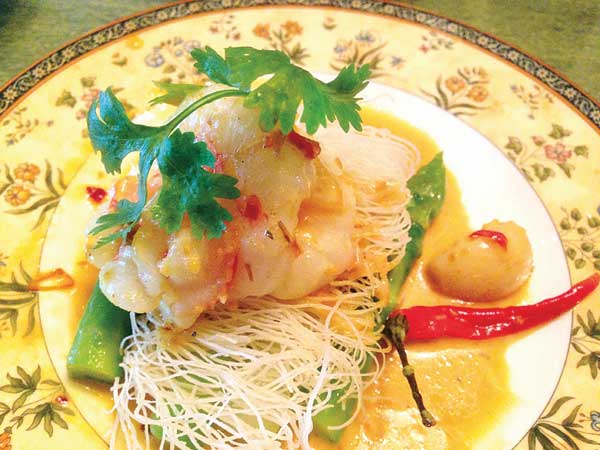 Perfect prawn: A curry shrimp that reflects Singaporean influences. [Photo provided to Shanghai Star]
In late summer and early fall, the city is perfumed by the elusive fragrance of a tiny pale gold blossom hidden among shiny dark green leaves. What would a restaurant named after this flower serve up? Pauline D. Loh has her nose on the scent.
This is one of the first hotels in Pudong, indicative of its owner's famous foresight. It is also one of Shanghai's largest, after it turned a patch of greenery into a grand tower of a few hundred more rooms.
This week, it celebrates its 16th anniversary as the big brother of hospitality in Pudong, and according to the statistics, more than 8 million diners have already feasted at its food and beverage outlets ranging from its Japanese to its Huaiyang restaurants.
There is a series of more than 10 other feeding stations in-between.
Most Shangri-La Chinese restaurants are named either Shang Palace, or Summer Palace if it's in the second property in the city.
Yet, the first Shangri-La in Shanghai has broken the mold by naming its Chinese restaurant after a scented bloom.
The osmanthus, or guihua, conjures up poetry and good food, and its fragrance evokes images of harvest moon, fat crabs and other autumn delectables in our memory palaces. Chef Sam Gao embosses his personal touch on the Huaiyang cuisine served at Guihua Lou.
He is a Yangzhou native, and a natural dexterity in his hometown cuisine is embellished by years of experience abroad in Singapore, where tycoons and political celebrities showed their appreciation of his creations.
It's easy to see why right at the start.
How many chefs you know can make cucumber skins into a melodious starter?
Little scrolls of dark green cucumber skin are faintly scented with lemon, and their crispness delights the palate with an appetite-whetting sweet-sour soup. We are told this is Shangri-La owner Robert Kuok's must-order dish.