The osmanthus room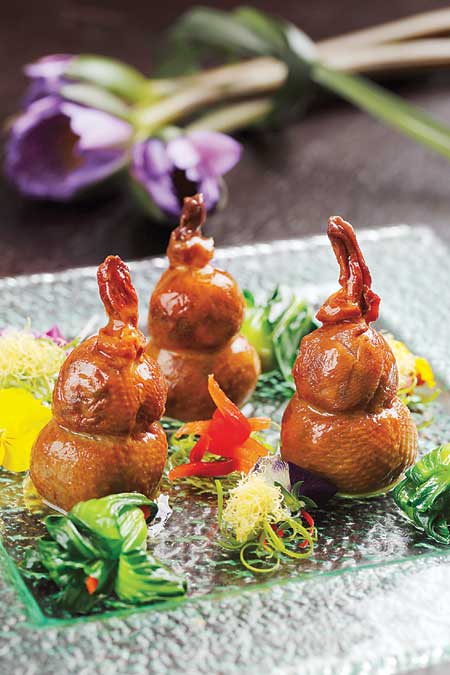 Chef Sam Gao's sophisticated culinary style has delighted many in both China and Singapore. His signature dish is a masterpiece of artifice — duck disguised as a bottle gourd. [Photo provided to Shanghai Star]
Another appetizer cements the floral connection is a classic steamed lotus root stuffed with sticky rice that is drizzled with osmanthus honey. Every slice prolongs the fragrance already in our mouths as we sip osmanthus flower tea from delicate porcelain teacups.
Soup's up next, and we are staggered by the elegant knife work. Soft snowy-white beancurd has been cut into hair-thin strips, so light they were floating on the rich chicken broth.
There is silence on the table as we concentrate on every spoonful. Finally when we look up, there is only one thought in my mind. If I had to order only one dish in Guihua Lou, this is it.
The broth is so concentrated with the goodness of chicken that it was easy to almost neglect the presence of two slices of abalone that came with it. It is said the cauldron of broth in a Chinese kitchen is its very soul.
Chef Gao's superior stock not only has soul, it rocks. It appears again underlying his next signature dish, an eight-treasures duck that has been given an elegant upgrade.
The eight-treasures duck of Jiangnan is a bird that has been deboned and then stuffed with eight different delicious ingredients including sticky rice, pine nuts, sausages, lotus nuts among others. It is then carefully bundled up, steamed and then deep-fried to a crisp golden brown.