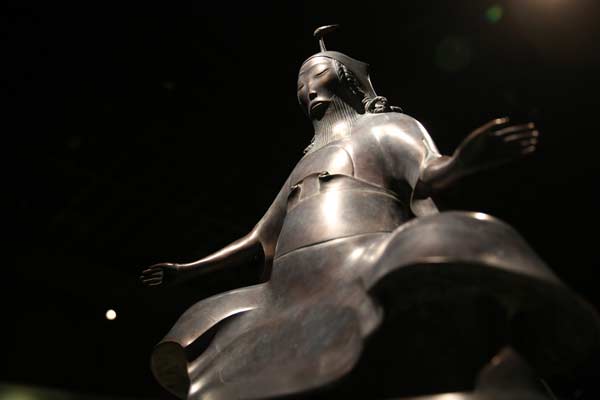 A bronze sculpture of Genghis Khan by Russian sculptor Dashi Namdakov. Jiang Dong / China Daily
A Russian sculptor returns to Beijing with works that focus on mythology and history, Deng Zhangyu reports.
Eight years after his first solo show in Beijing, Russian sculptor Dashi Namdakov has returned to the city with art pieces that focus on mythology and history.
His show, Gods from Buryat, features 56 bronze sculptures and 12 graphic artworks. They include images from Buddhism, the nomadic people of Siberia, the heroes of the Buryat epic legends and tales from ancient China.
Born in Siberia's Transbaikal, on the border between Russia and Mongolia, Namdakov has been greatly influenced by Mongolia's nomadic culture. Some of his better-known sculptures feature Genghis Khan and the legendary emperor's warriors on horseback.
"We believe that we're descendents of Genghis Khan. We share the same blood. The major part of my work is based on Genghis Khan's epic story," says the 47-year-old, whose works are owned by big-name collectors including Russian President Vladimir Putin.
Namdakov says that China and Russia have cultural and historical similarities, so Chinese visitors to his show should have no difficulty understanding his work.