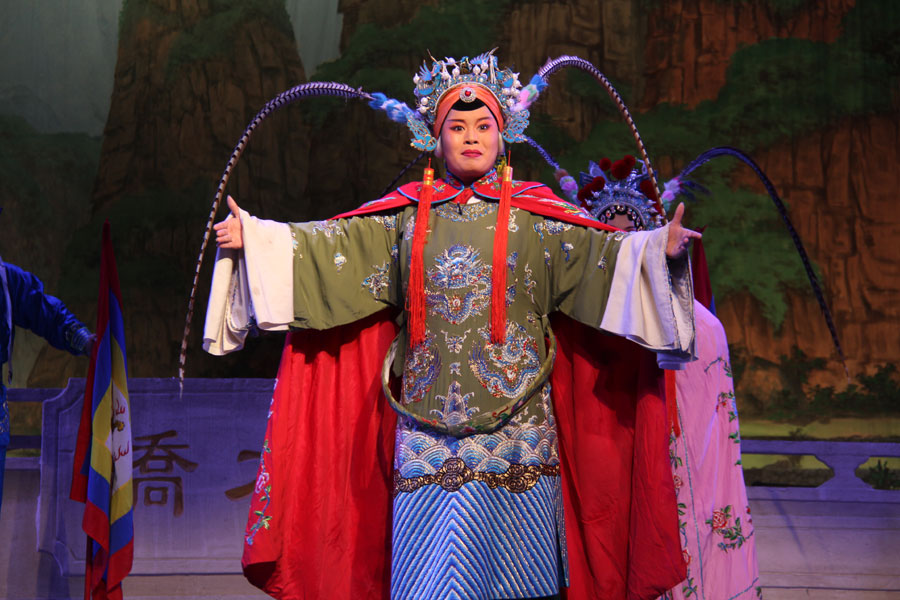 Yu opera perfomed at Dahe Troupe [Photo/CRIENGLISH.com]
With great attention paid to every detail, the Chinese opera, as an indispensable part of traditional Chinese culture, displays a marvelous artistic value to the world. As one of the five main national opera forms, Yu opera which originated in Henan province gains massive popularity for its artistry. In an age when educational resources were scarce, it even played the role of educating the general public and preserving cultural heritage. In recent years, to answer the call for reviving traditional culture, a multitude of private Yu opera troupes have been established.
Aiming to impart national culture and serve more people, Liu Yongsheng, the former director of Zhoukou Bureau of Culture, founded Dahe Troupe in 2011, with money raised by selling his private art collections. In addition to performing opera, the troupe is also a vocational middle school. It recruits staff from famous artists as well as teachers from Zhengzhou University and Henan Arts School, teaching students both academic and vocational courses including Chinese, Math, Acting, etc. After graduation, many students continued their study in junior colleges and universities and most of the graduates became professional actors and actresses.
Lu Huixia, an 11-year-old actress of the troupe said that she went home twice a year and that grandparents and her second uncle were the only family members she had now. The troupe was pretty much her home.
"My dearest wish is to become a good actress in the future," She said.