Grilled to perfection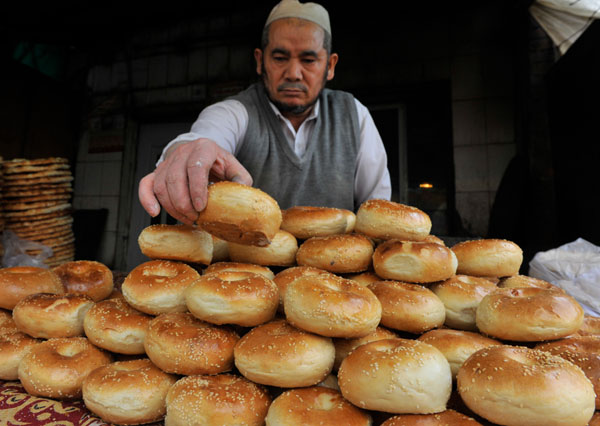 A vender at Erdaoqiao, Urumqi was putting freshly baked small oil nangs on display to attract customers. [Photo by Han Liang/For China Daily]
Ask any Chinese diner to name the most famous food from the Xinjiang Uygur autonomous region and lamb kebab will be the likely answer from most of them.
The mouth-watering skewers of grilled meat are recognized nationwide as the Uygur ethnic group's signature dish. Many Uygurs, a majority of whom are Muslims, have opened kebab restaurants across the country and beyond, but Xinjiang is widely considered to be the place to enjoy authentic kebabs.
During lunchtime, the smoke and aroma of lamb on the grills begin to rise from Erdaoqiao, an area where many Uygurs live in the regional capital of Urumqi. Orders for kawap (lamb kebabs in the Uygur language) in Uygur restaurants, big or small, begin to accumulate. Some diners joke that kawap smoke is what helps pilots find Urumqi in the air.
Restaurant owner Yasinjan Memet was busy piercing chunks of meat sliced fresh from a lamb leg with metal skewers. Like all kawap chefs, he inserted a piece of lamb fat on each skewer to help the kebabs stay tender after being grilled. The fat nourishes the lean lamb meat and brings out the best taste in every chunk of them, the 49-year-old said.
Soon, an order of 20 kawaps arrived. He then took the skewers he prepared outside to a traditional U-shaped Uygur iron grill. Uygur businessmen set their grills, which are decorated with ornate patterns, outside their restaurants to attract diners.
The length of the grill also depends on the size of the restaurant.
"Bigger restaurants have longer and more sophisticated grills," Yasinjan said while flattening the charcoal in his grill to make sure his kebabs were cooked evenly.
As soon as he put the skewers on the grill, the meat began to sizzle and smoke.