Lang Lang honored with German award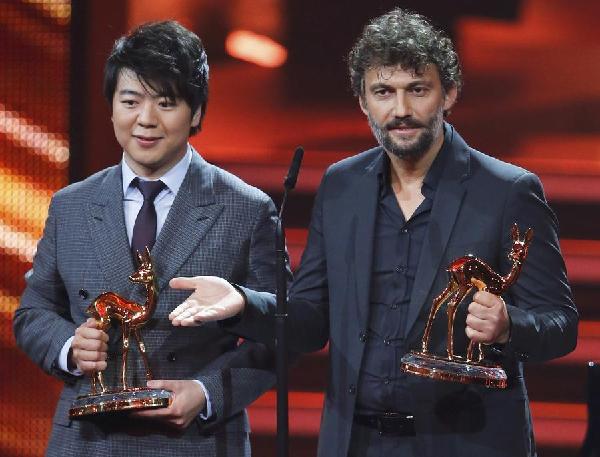 Chinese pianist Lang Lang and German tenor Jonas Kaufmann (R) hold their Classic trophies during the Bambi 2014 media awards ceremony in Berlin November 13, 2014. The annual Bambi awards honours celebrities from the world of entertainment, literature, sports and politics. [Photo/Agencies]
Pianist Lang Lang grabbed the prestigious German Bambi award on Thursday in Berlin, becoming the first Chinese to receive the honor.
Lang received the award for his outstanding achievements in classical music, according to the organizer.
The Bambi is Germany's most important media prize awarded by journalists and recognizes the outstanding figures who inspire, touch and move the German and global audiences.
"I'm very happy and honored to receive this award for the first time, very special," 32-year-old Lang told China Daily, adding that he wants to promote universal music education globally through the influential award.
"My concept is learning music happily, combining foreign and Chinese advantages to systematize music teaching," Lang added.
This award comes at a time when Lang is committed to his work on music education projects and charitable activities.