Tailor-made APEC leader suits sparks new fashion fever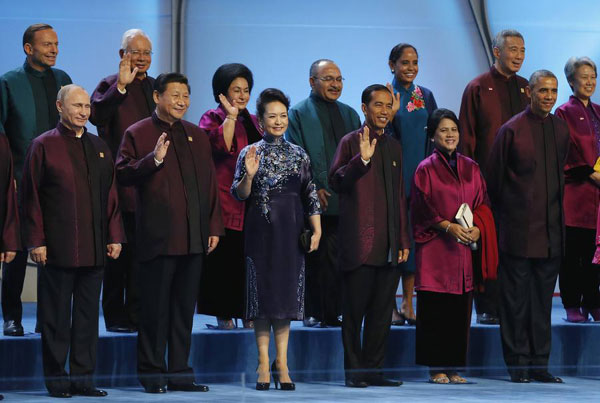 Dignitaries and China's President Xi Jinping and his wife Peng Liyuan pose for pictures in traditional Chinese-style outfit, during the APEC Economic Leaders' Meeting Welcome Banquet at Beijing National Aquatics Center, or the Water Cube, in Beijing, November 10, 2014. [Photo/Agencies]
The high-collared Chinese tunics tailor-made to be worn by the world's most prominent leaders in Beijing last week during the Asia-Pacific Economic Cooperation (APEC) Forum has sparked a new online fashion trend.
Conceptualized by fashion designers specifically for the meeting, the traditional Chinese garment utilized dark-blue damask with watermarks, a technique linked to textile methods from the Song Dynasty (960-1279).
Just days after leaders were photographed wearing the garment, online retailers began offering copycat versions appropriately titled "APEC leader suit".
The knock-offs are being sold for around 200 yuan (US$33) to more than 1,000 yuan on Taobao.com.
Owner of online store Fuzhuangdashijie8866 said the suit is selling so well rush to delivery will still take 20 days to arrive after a buyer places the order.
The store, however, has changed the name "APEC leader suit," which it only used for two days to promote the design. They said the portal's management staff advised retailers to change the name for fear of getting entangled in patent infringement disputes.
Although the specially-designed suits have no trademark, the texture is exclusively made for the suits donned by the APEC leaders and patented, said Kou Yongqi, manager of High-Fashion Silk (Zhejiang) Co. Ltd..