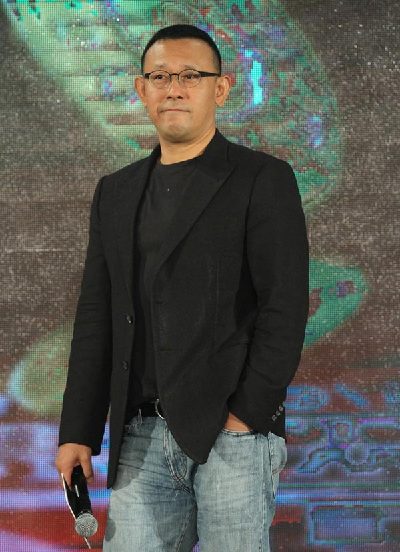 Chinese director Jiang Wen attends the press conference for his new movie "Gone with the Bullets" in Beijing, Nov 18, 2014. The film opens on Dec 18. [Photo/Xinhua]
Chinese director and actor Jiang Wen's new movie, "Gone with the Bullets," will be a new landmark in China's film history, as it has now grossed 120 million yuan (US$19.61 million) in Internet presales one month before its release.
The film's producers also noted at a press conference on Tuesday that the film's IMAX presales had already broken the midnight premiere record of 4 million yuan (US$653,700) set by Michael Bay's alien robot blockbuster "Transformers: Age of Extinction."
One of the producers Ma Ke, avoiding a question about whether "Gone with the Bullets" will break the all time China box office record of 1.97 billion yuan (US$322 million) set by "Transformers: Age of Extinction" this summer, said the records can always be broken. "What has made us happier is we spent four years making a serious, high-quality movie. The responsibility for a domestic film shall always lie on quality at first, then it is about box office income."
Jiang Wen admitted that Chinese filmmakers cannot compete with the American film industry in making big visually spectacular films, "But we can always do things in 30 years where others may need 300 years. We always hope we can make a movie that will beat America. "
Jiang Wen and several members of the cast, including Shu Qi, Zhou Yun, pop diva Na Ying and Liu Linian, attended the press conference in Beijing.
"Gone with the Bullets" is one of the most anticipated Chinese movies this year, and Jiang and his producers were confident that the movie will break China's box office records.
"Gone with the Bullets," set in 1920s Shanghai, is based on a true story. The main characters Ma Zouri (Jiang Wen) and Xiang Feitian (Ge You) establish a notorious beauty pageant called the "Flowers Competition." All of the city's elite attend this gala event, but when Wanyan Ying (Shu Qi) unexpectedly wins, it sets into motion a series of tragic events that changes the characters' destinies.
"Gone with the Bullets" will hit Chinese screens on Dec 18, 2014.
Related:
'Gone with the Bullets' promoted in Beijing
'Gone with the Bullets' to hit screen on Dec 18