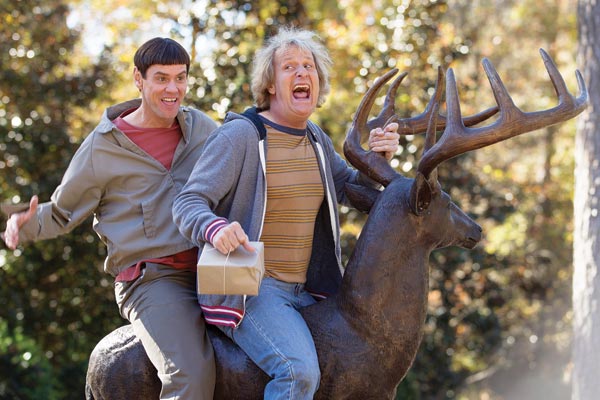 Jim Carrey (left) and Jeff Daniels in a scene from Dumb and Dumber To. [Photo/Agencies]
Screwball comedy sequel Dumb and Dumber To confounded scathing reviews to top the North American box office on its debut in theaters at the weekend, estimated figures showed on Sunday.
A follow-up to 1994's Dumb and Dumber, the sequel sees Jim Carrey and Jeff Daniels reprise their roles as dimwitted best friends haplessly attempting to overcome a series of comic obstacles on a farcical odyssey.
The movie, directed by brothers Bobby and Peter Farrelly, pulled in a solid $38 million in its opening weekend, according to box-office tracker Exhibitor Relations.
The weekend haul belied reviews which have been broadly merciless, with one critic opining that the film "isn't just dumb and dumber, or even crude and cruder ... it's just dull-and duller."
So far the film has scored a meager 27 percent on the Rotten Tomatoes film review aggregator website.
In second place was Disney's animated Big Hero 6, which follows the adventures of a 14-year-old genius and an inflatable robot called Baymax. The movie earned $36 million in its second weekend.
Christopher Nolan's sweeping space epic Interstellar, starring Matthew McConaughey and Anne Hathaway as astronauts embarking on a quest to find a new habitat for humanity, was third. The film took $29.2 million on its second weekend in theaters.