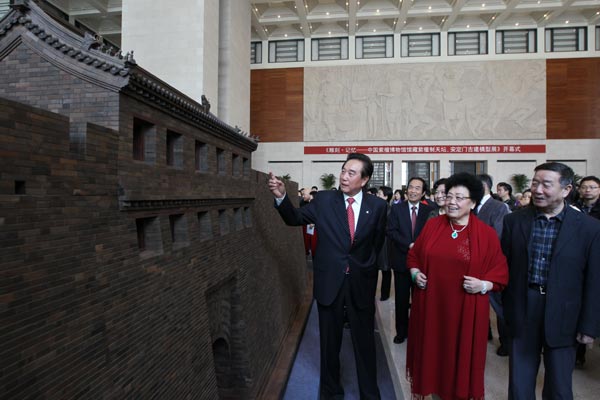 Chen Yunlin (left), former president of the Association for Relations Across the Taiwan Straits; Chen Lihua (center), founder of the Red Sandalwood Museum of China in Beijing; and Zheng Xinmiao (right), former director of the Palace Museum, look at a model of Yongdingmen Gate made of sandalwood at the National Museum of China in October 2013. Photo provided to China Daily
The walls and gates encircling Beijing were mostly demolished in the 1960s, closing a door on an important part of the imperial city's history.
Beijing had nine inner city gates and seven outer city gates. Today, only two of the original inner city gates, Zhengyangmen and Deshengmen, remain. Yongdingmen was the only outer gate that was rebuilt in 2004.
However, a current project to re-create the walls and gates is restoring those ancient memories brick by brick, using precious red sandalwood and ebony.
The reconstruction project, initiated by Chen Lihua, a self-made billionaire based in Beijing, and her Red Sandalwood Museum of China, is half finished with nine gates completed. The massive project, which started 10 years ago, is expected to be completed in the next two years with 16 gates re-created.
On display at the MGM Art Space, Macau, through March 22, Red Sandalwood Art Exhibition of Old Beijing City Gates features sandalwood miniatures of Yongdingmen, which translates as the Gate of Eternal Stability, and the Temple of Heaven.
"I have a dream to restore old Beijing's memory. The miniature city gates and walls are a cultural legacy for future generations," says Chen, who is also an active advocate of culture.